If you deeply believe that you want to be a nurse and you are willing to put in the hard work to become one, you CAN and you WILL be a nurse. Do not stop believing in yourself, you can do it.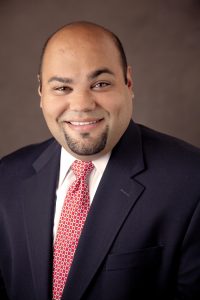 Member of Adelphi University's 10 Under 10
Clinical Program Manager, Mount Sinai
Oswaldo Luciano '12 tells the truth: "I had a love/hate relationship with all of my nursing classes." As a second-career nursing student, he admits he underestimated the rigors of a nursing degree. But the professors who offered the greatest challenge were also the most supportive, including Professor Irene Ferguson and Professor Nadine Minto. Luciano excelled, knowing that the future career path was worth the academic challenge.
Luciano came to nursing from an established career in non-profit organizations serving underserved populations. After earning a bachelor's in community health education and Spanish, followed by a master's of science in health services management and policy, he specialized in writing grants for public health projects. In his position as director of male health education at NYP Hospital/Columbia, where he oversaw the Young Men's Clinic and 13 school-based clinics, he worked closely with staff nurses. There, he discovered how perfectly nursing encompassed all of his passions: health, education, management and mobility.
After graduating from Adelphi in 2012, Luciano worked at Northwell/LIJMC as a GWYN (Go Where You're Needed). Being a full-time float nurse enabled him to experience over 20 different specialties, gaining valuable experience across the healthcare spectrum and earning him the Nursing Excellence Award. Since then, Luciano has continued on in his education, earning his MS in nursing education at Stony Brook University and gaining larger leadership roles in his profession. In his current position as clinical program manager for hospital-wide initiatives at Mount Sinai's Nursing Education and Professional Development Department, Luciano's ensures that quality healthcare is provided to patients by helping the 3,500+ Mount Sinai nurses to use all resources available to perform at their best.
Luciano is not done yet. He and his husband Jon have built a family with two children they had through gestational surrogacy, and he volunteers as a resource for gay men exploring surrogacy as an option for their families. He is also authoring a chapter on LGBTQ health for the 6th edition of the Core Curriculum for Medical-Surgical Nursing, a comprehensive resource for medical-surgical nursing practice, as well as beginning his PhD in nursing education at Nova Southeastern University.
Looking back, Luciano says Adelphi "changed my outlook on life. It gave me a career that I love and that I am most proud of. It gave me flexibility, mobility, growth–it opened up roads that are limitless. It has allowed me to dream, to achieve, to care, to treat, and, to value life. It has allowed me to be."