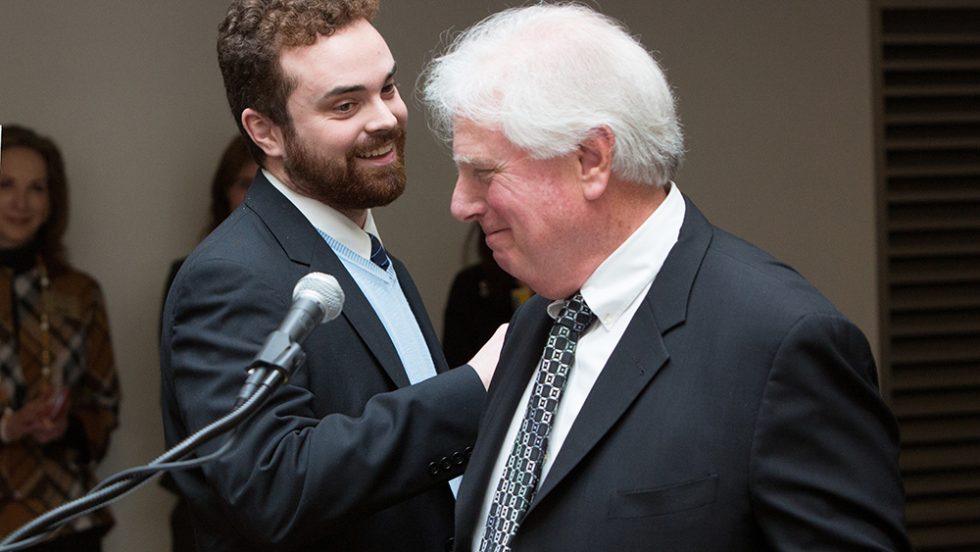 The Bridges to Adelphi program is renowned for helping students on the spectrum prepare for great careers. A new grant is making these vocational services even more supportive.
Adelphi students with autism or nonverbal learning disorders will have even more resources at the University this year, thanks to a $50,000 grant awarded to the Bridges to Adelphi program.
The Bridges to Adelphi program has helped students on the autism spectrum and those with nonverbal learning disabilities navigate the college experience since 2007. The new funds, from The Disability Opportunity Fund (DOF) of Rockville Centre, New York, will be used to expand the program's vocational services and better prepare students for their postcollege careers.
The grant allows the program to hire a transition coordinator who will work with seniors and alumni looking for job placements and a community partnership developer who will help recruit organizations interested in making jobs or internships available to Bridges students.
"We need to be out in the community looking to build new partnerships because our graduating classes are growing," said Mitch Nagler, MA '06, director of the program. "This May, we'll graduate 22 students, and this is a huge challenge for us to put them out there and get them into the right place."
The grant will also help the program continue to offer individualized care to each student.
"Of the 60 students receiving vocational services, no two are getting the same deal," Nagler said. "Everybody has different needs and different levels of readiness. We meet students where they are, each one of them."
The program already offers career services such as résumé writing, job interview preparation, vocational testing and access to paid internships with partner companies like Northwell Health, Broadridge Financial Solutions and the Nassau Library System. Services are provided by current Adelphi graduate students of psychology, social work and communication disorders.
The goal of the Bridges Program is to provide students with the skills and strategies necessary to navigate through college and foster independence.  Bridges collaborates with employer partners to cultivate competitive opportunities in the vocational realm.
After graduation, biology major Sean Culkin '17 worked with Bridges to Adelphi to obtain a two-month internship at Northwell Health. When the internship ended, he was hired as a full-time laboratory coordinator to conduct clinical cancer research.
"The Bridges program worked with me and other students on understanding how to handle ourselves in an office and prepare for what an office job is like," Culkin said. "We worked with companies that understood that we had autism and wanted to invest in us. They really took the time to understand our interests and to work with us."
The Bridges program also trains supervisors to work with interns on the autism spectrum.
"Not everybody knows what autism is and people are oftentimes afraid of it and don't know how to deal with it," Nagler said. "So we have a blueprint for them to follow, mostly about communication and awareness. We can tell them, 'What may appear to be inappropriate or antisocial isn't, and here are ways to understand it.'"