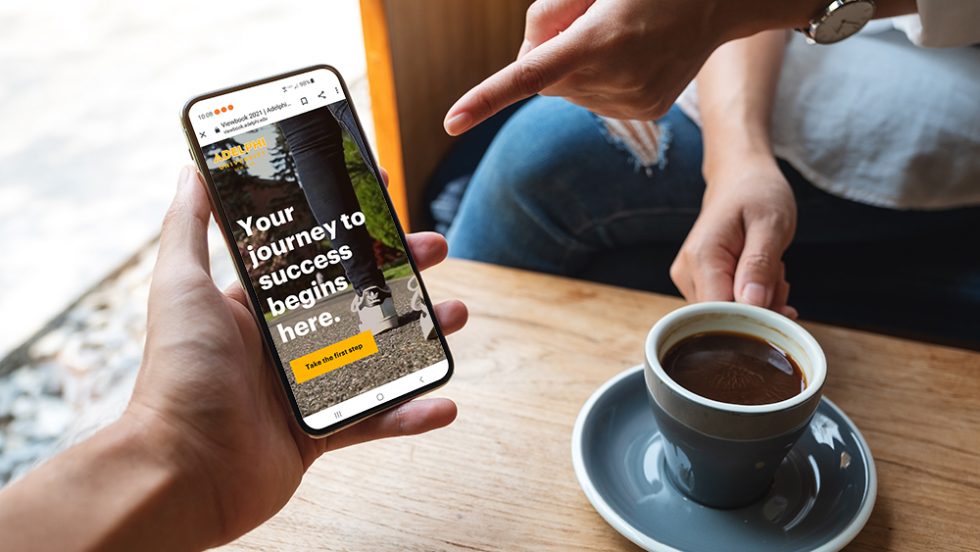 Adelphi has launched a smarter, more engaging and inclusive way to share the Adelphi story with students and families. Our first digital viewbook is far from a simple slideshow—our readers are one click away from a video, a program or a virtual tour of Adelphi.
Adelphi has taken the traditional college viewbook firmly into the digital age with the launch of its first-ever virtual viewbook.
Prospective undergraduate students can now schedule a campus tour, learn about majors, apply for a spot in a dorm or get an admissions packet, all by scrolling on their phone. "The virtual viewbook is a huge improvement over the traditional paper viewbook," said Tara Coyle, Adelphi's director of web development and digital strategy. "It's more environmentally friendly, it's more searchable and it's much more interactive."
The new viewbook isn't just a PDF slapped online. It's designed for the web and it's media rich and highly interactive, packed with videos, student profiles, maps and virtual tours of campus. It's also fully ADA compliant so anyone with a screen reader can access its features—another way we are sharing the Adelphi story with people of all abilities.
"Any student can now learn about the campus experience, job outcomes, graduation outcomes, proximity to New York City, internships, multicultural diversity on campus, and they can take an interactive tour or schedule an in-person tour," Coyle said. "They can get high-level info about Adelphi and then dig down deeper into what's available, all online."
The viewbook can be easily updated so the latest version is always available, unlike a paper guidebook, Coyle said.
A viewbook made for Gen Z
Adelphi's virtual viewbook is squarely in line with the values and media habits of today's Gen Z students.
"One of the most important things about the new viewbook is that it's compatible with phones," said Noelle Fiallo-Evans, MA '15, senior creative director for design services in Adelphi's Office of University Communications and Marketing (UCOMM). "It reaches the prospective student where they live, because that's how they get information."
According to Global Web Index, 98 percent of Gen Z—the 65 million kids born between 1997 and 2012—own a smartphone, and 78 percent of them consider that phone to be their most important device for interacting with the world.
They're a media-savvy generation, with an attention span often cited as eight seconds long, according to a Pew Research Center study. That's how long it takes them to decide to read on or click away, so a viewbook has to interest them from the first few seconds.
And Decoded says that 76 percent of Gen Z is concerned about humanity's impact on the environment, so a clickable, video-packed viewbook is a greener alternative than paper.
Adelphi still prints traditional paper viewbooks, Fiallo-Evans says. They just don't need to print as many. "We needed a Plan B," she said. "In the future, we may not need a backup plan."
Other print pubs are headed online
The viewbook was built in-house at Adelphi by a team of developers and designers. They tested the design on Adelphi students before releasing it, Fiallo-Evans said, and the feedback was positive. "Students really liked the interface, and they liked being able to get so much info online," she explained.
To keep costs down, the creators used photos and data gathered for use on Adelphi's website and the physical viewbook, adapting the media for online use. "We turned photos into ambient videos, which are kind of like a GIF in that they're a few seconds long and bring a photo to life," Fiallo-Evans said.
Coyle said Adelphi plans to launch online versions of other publications in coming years, including Adelphi Magazine. "Now that we have a template, we can adapt all our different publications to it," she said.
"We're really looking forward to incorporating a lot more of our printed work into this digital environment," Fiallo-Evans said. She feels the essence of the school can be better communicated online than in print.
"We want to give students a better idea of what our campus is like, what our student life is like," she said. "We want to show true moments that happened on campus with professors and classrooms, so we can really show them what Adelphi is like 'IRL' [in real life] with these digital tools."