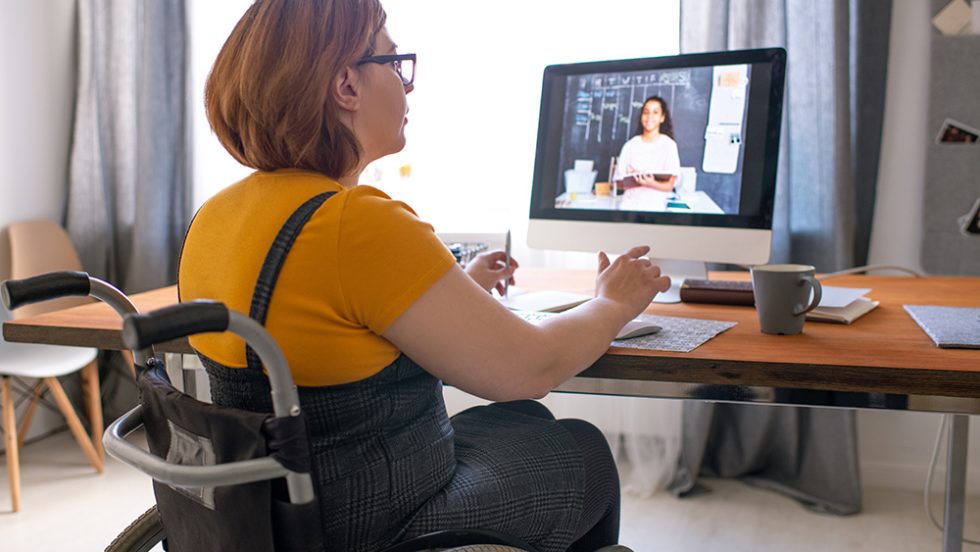 Online classes can present challenges for some students with disabilities. Adelphi's Student Access Office has worked overtime during the global health crisis to ensure assistive technologies are available for students who need them.
It's the 30th anniversary of the landmark America Disabilities Act (ADA), and Adelphi remains committed to helping students with disabilities fully take part in the academic and social life of the University.
It therefore came as no surprise that the Student Access Office (SAO), whose mission is to improve the educational experience of students with disabilities and to enhance accessibility and support at Adelphi, has been working with students with disabilities and their professors since the start of the COVID-19 pandemic on alternate forms of accommodation for learning online.
Brian Flatley, MS '19, associate director of the Student Access Office, said a number of resources have been made available on the office's page on the Adelphi University website, including information for faculty members about ways to incorporate captioning and transcription into their lectures.
"Each student has a unique way of absorbing information, whether it is auditory, visual or kinesthetic," Flatley said. "Providing captioning and transcription in all lectures will ensure that every type of learner is accommodated, not just those with a disability."
Additional resources provided by SAO include the note-taking software Sonocent, which Flatley said "has given students more autonomy, improved their note-taking skill sets, and has cut costs for the University by $35,000 annually by eliminating the need for the hiring of peer note takers."
Accounting major Andrew Engelhardt has profound hearing loss and uses a cochlear implant in one ear and a hearing aid in the other. He reads lips during lectures and also uses a special receiver/transmitter provided by SAO that ensures a clear transmission of audio. Engelhardt also uses note-taking assistance to make sure he doesn't miss any important information.
"With anything online related, the audio is always difficult for me to understand because it sounds distorted and hard to follow along," Engelhardt said. "But after discussing with the SAO and with my professors what I can do, I felt it became easier to adjust."
His professors now conduct their classes live on Zoom or prerecord their lectures, which makes it easier for Engelhardt to rewind and review portions of the lecture he may have missed.
"Although there are many other kinds of software out there that provide different features, there is one called Canvas Studio that provides live captioning that really helps me," Engelhardt said. "If I didn't have it or help from note takers, I can only imagine how difficult the learning experience would be."
Engelhardt's comment about captioning is shared by Flatley. "The Student Access Office is also pushing for captioning on all communications and marketing videos," Flatley said, adding that improvements in technology should make video captioning more easily integrated.
Jessica Karim, a sophomore social work major who is blind, is no stranger to facing barriers to access in her everyday life. Before in-person classes were halted, Karim lived in Residence Hall B on campus. She plans to return to living on campus this fall.
She said the Student Access Office has been a great help to her since she came to Adelphi. Karim said Liam Owens, the assistive technology specialist at the Student Access Office, has always been on hand to help her get textbooks and any other materials she needs for class in an accessible format.
Karim also uses Aira software provided by SAO. Aira is a service that connects blind and low-vision people to highly trained, remotely-located agents who use smartphone cameras to "see" for the student. These agents deliver visual access to things such as reading charts, identifying online images and navigating around campus, just to name a few.
"I'm a Levermore Global Scholar and I'm taking global problem-solving," Karim said. "We've been using a lot of online images and graphics to track the COVID-19 pandemic, so it's been helpful to call Aira and have them give me descriptions."
Hannah Moran, who is diagnosed with a spatial visual disorder, has needed help getting used to sitting behind her computer for longer periods of time.
Her condition makes it difficult for her to read from her computer screen because things tend to move about randomly. As a result, SAO provided a text-to-speech software that allows her computer to read to her.
"I can program my computer to read certain things to me so I don't have to spend as much time reading," Moran said. "It takes more time for me to read than the average person."
Flatley also mentioned how SAO happened to be preparing for remote learning months before COVID-19 upended our lives. In the past year alone, the office developed an online orientation using Moodle, successfully transitioned 175 students who receive note-taking assistance to be more independent by adopting Sonocent, and has improved its use of exclusive enterprise software that provides better communication with students. "Our goal is to create a universal learning environment in which all people can achieve their full potential and succeed," Flatley said.