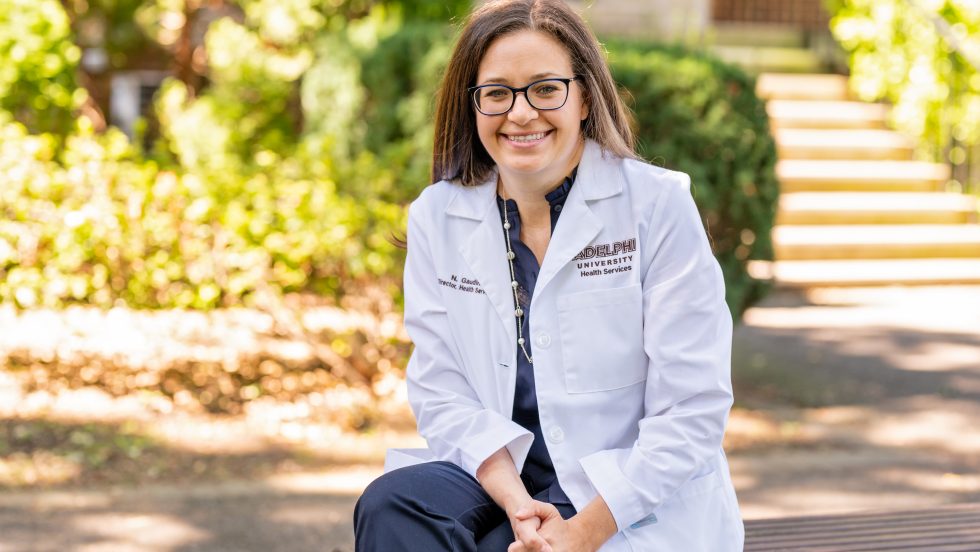 Adelphi fostered my success by creating an environment in which I am consistently inspired and never stop learning.
Member of Adelphi University's 10 Under 10
Nursing (2012), Adult Gerontology Primary Care Nurse Practitioner (2017), College of Nursing and Public Heatlh
Executive Director of University Health and Wellness, Adelphi University
Nicole Gaudino-Vieira is one of Adelphi University's homegrown healthcare heroes. After earning her master's in science and her adult-gerontology nurse practitioner degree at Adelphi, she took on leadership of Adelphi's Health Services Center with a steadfast mission to keep the University's community healthy and safe. Since 2017, Gaudino-Vieira has not only been a healthcare provider, but has helped students in the College of Nursing and Public Health prepare for their own careers in nursing as an adjunct faculty member.
Gaudino-Vieira says she chose to study nursing at Adelphi University because of its sense of community. She decided to continue her education to become an adult-gerontology nurse practitioner at the College of Nursing and Public Health—what she calls her greatest professional accomplishment—because her mentors opened her eyes to professional development and helped to strengthen her ambition. She credits Clinical Associate Professor Stefni Bogard's Health Assessment course with giving her the confidence to pursue teaching, and notes that Adelphi's former Health Services director, Jacqueline Johnston, PhD '18, assistant professor in the College of Nursing and Public Health, was instrumental in her success by always encouraging her to strive for more, professionally and academically.
"I have always found fulfillment in helping others, and this has guided everything I've done as a healthcare professional and a volunteer," says Gaudino-Vieira. "From my volunteer work providing nutrition assistance with Island Harvest, to my decade as a pediatric/adolescent nurse, to my work with the University today, I enjoy working with people and families to educate them on how to stay healthy."
Nursing allowed Gaudino-Vieira to pursue success while doing what she loved. In April 2021, she was appointed executive director of University health and wellness, amid the unprecedented challenges posed to higher education institutions during the COVID-19 pandemic. Gaudino-Vieira played an integral role in keeping the Adelphi University campus safe throughout this public health crisis, providing leadership and expertise while helping the University navigate wide-ranging concerns posed by the virus. She was a key member of the task force overseeing all aspects of the University's response to the COVID-19 pandemic, offering invaluable knowledge and well-honed communication skills to clearly convey important messages to the community. Gaudino-Vieira asserts that support from Gene Palma, vice president of University wellness, safety and administration, enabled her to be a strong leader and an advocate for both students and staff. 
Gaudino-Vieira was a recipient of the 2021 President's Award for Excellence as well as the Adelphi Above and Beyond Award for her work to safely guide Adelphi through the pandemic. She has served on many committees advocating for the Adelphi community, including the Biennial Review for Alcohol and Other Drugs, Lean in Higher Education, the Health and Wellness Committee, the LGBTQIA+ Task Force, the Retreat Planning Committee, and the Panther Pantry. Gaudino-Vieira is a member of the American Association of Nurse Practitioners (AANP), the Sigma Theta Tau International Honor Society of Nursing, the American College Health Association (ACHA) past APC Section Program Planner, the Nurse Practitioner Association New York State's Long Island Chapter (NPALI), the Long Island Council of Student Personnel Administrators (LICSPA), and the New York State College Health Association (NYSCHA). 
"Adelphi fostered my success by creating an environment in which I am consistently inspired and never stop learning," says Gaudino-Vieira. "Find what makes you happy and immerse yourself in it! I am forever grateful to the staff, faculty and students I have met at Adelphi—they have shaped my life and my career. I am honored to continue my service to this community in return for all it has given me."