Nicholas Petron, M.A. '70, has been teaching theater at Adelphi University for more than 40 years.
Nicholas Petron, M.A. '70, has been teaching theater at Adelphi University for more than 40 years. So when he was asked to become an Alumni Legend, an honor that was given to only three members of the Adelphi community, he felt blindsided. It was an unexpected surprise, but also the crown jewel on a long and fulfilling career—not just as a teacher, but also as an actor.
Petron has worked on-screen with such renowned actors as Al Pacino and John Cusack and has performed onstage as Linus in You're a Good Man, Charlie Brown and The Prince in The King and I. He's even done some voice-over work. But as his hair thinned, roles became scarce, which prompted his former mentor, Jacques Burdick, Ph.D., professor emeritus in the Department of Theatre, to offer him a teaching position at Adelphi. "Just for a year," Dr. Burdick said.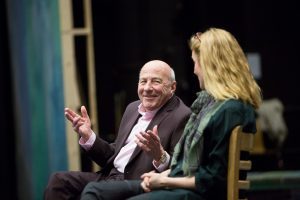 Now, 40 years later, Petron is still teaching at Adelphi, using his experiences onstage and on-screen to guide his students. In his Text Analysis class, he has his students analyze scripts to search for subtext, to ask questions like "What are these characters really saying?" "What do they really want?" He also teaches Introduction to Directing, as well as a course called The Profession and the Working Actor. Here, he prepares his students for the real world, teaching them about unions and agents, how to get quality head shots, and how to be perceived as a professional. "It's difficult to succeed," he bluntly tells his students, "but it's not difficult to be a working actor"—a fact that Petron himself has certainly proved. 
Seeing his students succeed, though, has been Petron's greatest reward as a teacher. Many of them work as actors in Chicago, Los Angeles and New York City. Others have created notableworks, including film producer Randall Emmett and Jonathan Larson '82, writer and composer of the Broadway sensation RENT.  
And in between all his teaching, Petron still makes time for auditions. His last movie, Acts of Violence, was released on January 12, 2018, and stars Bruce Willis. He's also working on a Sylvester Stallone movie, in which he plays an apartment complex manager. Petron's dedication to his craft is inspiring and comes down to his main philosophy: "Every morning, when you get up and look in the mirror, ask yourself, 'Can I live without this business?' If you say yes, then that's it. But if you say no, if you can't live without it, then keep doing it until you get to a good place."
Biography
Nicholas Petron was born and raised in New York. His time as an altar boy and the rituals of the Mass are what inspired him to become an actor. Petron obtained his bachelor's degree from Kansas Wesleyan University and his master's degree from Adelphi University, both of them concentrated in theater. His favorite movie is The Graduate, and his favorite play is Who's Afraid of Virginia Woolf?
---
For further information, please contact:
Todd Wilson
Strategic Communications Director 
p – 516.237.8634
e – twilson@adelphi.edu