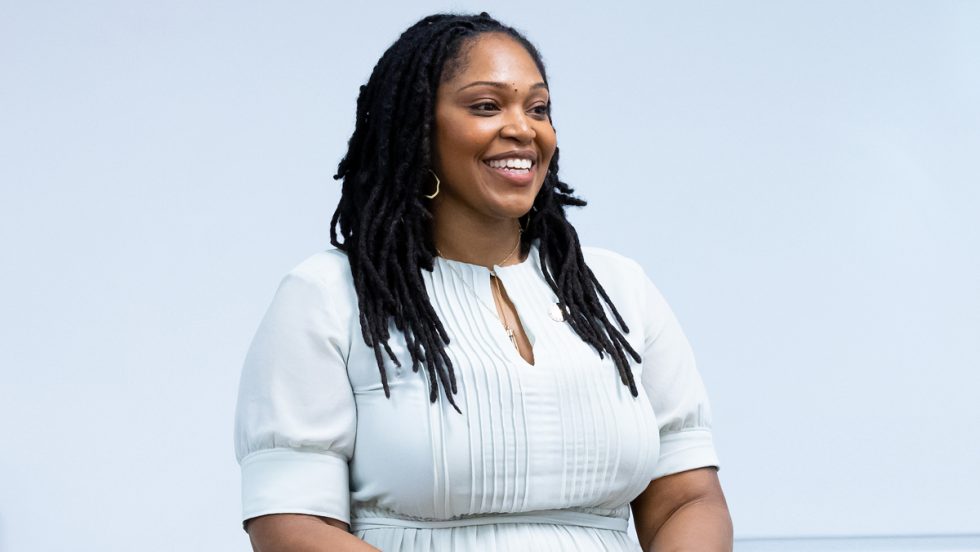 New York State Assembly Member Chantal Jackson, MSW '14, had a busy day April 7.
She was up at 4:00 a.m. for prayer and meditation, started group chats with staff members promptly at 9:00 a.m. and then went straight into planning meetings. At 6:30 p.m., she was at Adelphi's Manhattan Center to speak with students about the various directions—including electoral politics—that a social work degree can take you. And all of that was while fasting through the daylight hours in solidarity with her Muslim colleagues in observance of the holy month of Ramadan.
But busy days are nothing new for Jackson. As a student in Adelphi's social work program, she was taking evening classes while working full time and raising her young daughter. It was also when she saw her future as a policymaker.
"It was a difficult time, but that's when I learned I'm going to be a public official," she told the students gathered in the classroom and joining online.
She stated succinctly the importance of having social workers in the legislature: "Just think that someone is making policy on how you should run your day and they have no idea what your clients have been through."
Jackson, now the mother of two, is currently serving her second term representing District 79, which includes the Bronx neighborhoods of Concourse Village, Melrose, Morrisania, Claremont, Belmont and East Tremont, and has continued to work in large part for the demographic groups she previously saw as clients. In her first term, she wrote and successfully passed a bill that mandates a gun license to purchase or take possession of a semiautomatic rifle. And she continues to push on issues that disproportionately impact disadvantaged neighborhoods. Employment, after-school programs and mental health resources are what's needed, she said, to make streets safer and keep young people from feeling like they need to carry weapons to protect themselves.
"Who's going to talk about mental health?" she asked the room to nods of agreement. "Who's going to talk about opening your community centers? Who's going to talk about gun violence? The social worker."
Jackson remembered Adelphi as the place where she learned the first rule of social work—meet people where they're at—and became part of a group of a dozen students who "studied together and leaned on each other" and who still remain in touch.
A strong job outlook
Along with discussing her time at Adelphi and her current policy initiatives, Jackson brought positive messages for the students soon to enter the social work field. There are ways to influence public policy without holding elected office, she said, from volunteering with campaigns and showing up at legislative hearings to doing research and even starting a nonprofit organization.
"You don't have to be the elected official," she said. "You can be the lobbyist, the advocate. I've got advocates I talk to every day."
And, she noted, a degree in social work doesn't have to mean being relegated to lower-income jobs.
"How many of you have heard there's no money in social work?" she asked. Hands went up and laughter circled the room. "There is money in social work. You can go anywhere with this degree. Find what you love and follow it."
Television networks hire social workers as advisers for reality shows, she noted by way of example, and professional sports teams employ social workers in their human resources departments.
"There's lots of money," she said. "You've just got to figure it out."