From internships in everything from finance to nonprofits, Manhattan offers Adelphi students a world of opportunities.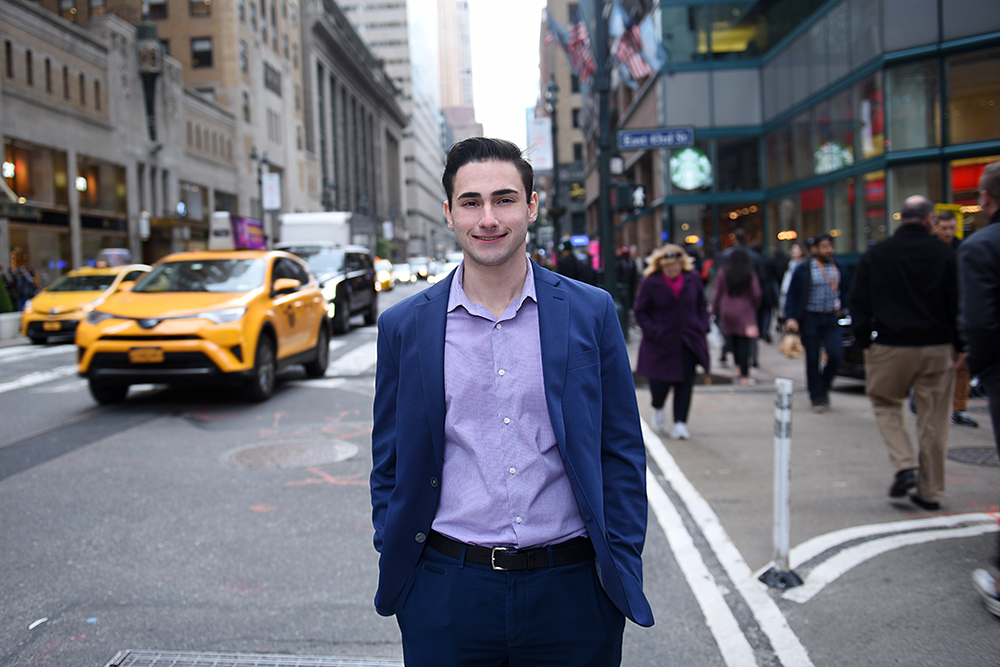 When Andrew Jacobson was a first-year student, he wasn't sure he wanted to work in New York City. He lived on Long Island, where he'd grown up, and wasn't keen on the one-and-a-half-hour daily commute into the city.
Then he landed a summer internship as a finance intern at the National Urban League in Manhattan.
"Ever since that internship in 2018, I realized I have to work in the city because I love it so much," says Jacobson, a finance major now heading into his senior year at Adelphi. "I was working just one block north of Wall Street, downtown in the financial district, and it was a really great experience."
Many students like Jacobson get their first taste of working in New York City through the Adelphi internship program.
"It's part of the Adelphi experience—that you can have access to New York City, which is the financial capital of the world," says Thomas J. Ward Jr. '93, executive director of the Center for Career and Professional Development. "Sometimes students come from another part of the country and have never had that city experience, or students come from one of the boroughs and want to work in Manhattan."
Adelphi has helped students across disciplines land internships at a range of New York-based organizations such as Viacom, CBS, Mount Sinai Health System and the Brooklyn Botanic Garden. The Jaggar Community Fellows Program also connects select students with paid summer internships at nonprofit organizations such as the American National Red Cross and the American Tap Dance Foundation. It was through this program that Jacobson landed his internship at the National Urban League.
As an intern in the partnerships and advancements department, Jacobson conducted financial research about prospective donors to the civil rights organization.
"The people were amazing, and it was my first taste of working in finance," Jacobson says. "It was a nice way to confirm that finance is definitely what I want to do."
The Robert B. Willumstad School of Business at Adelphi is also known for its rigorous and comprehensive internship program. According to Neil Halloran, director of the internship program, 80 percent of business school students who graduated in 2019 had at least one internship, and 38 percent had more than one.
Nicholas Sterlacci '19, for example, graduated this spring with five internships under his belt—two of which were in New York City. In the summer of 2018, Sterlacci was a credit analyst intern for APG Asset Management. He helped develop a new platform that could analyze the company's credit.
"It gave me great experience with a large firm that has about $500 billion in assets in their management," Sterlacci says.
The paid, full-time position had Sterlacci commuting from Brooklyn, where he grew up.
"Having that first experience working in New York City really showed me that that's where I want my career to be," Sterlacci says. "It's a fast-paced work environment and there is very little room for mistakes."
Sterlacci went on to intern as an analyst at INSPIR Group, an investor relations firm, where he built financial models, created pitch decks for client presentations and helped develop the company's shareholder base. Upon graduating, he was hired as a leveraged finance analyst at Sumitomo Mitsui Banking Corporation on Park Avenue.
Other business students have gotten New York City internships through the Robert B. Willumstad School of Business, landing at Goldman Sachs, Merrill Lynch, State Farm, GEICO and the Big Four accounting firms: EY, PwC, KPMG and Deloitte.
"Organizations often approach Adelphi about advertising their internships," says Ward. "And we're constantly knocking on the doors and trying to bring in more organizations to recruit our students."
---
For further information, please contact:
Todd Wilson
Strategic Communications Director 
p – 516.237.8634
e – twilson@adelphi.edu