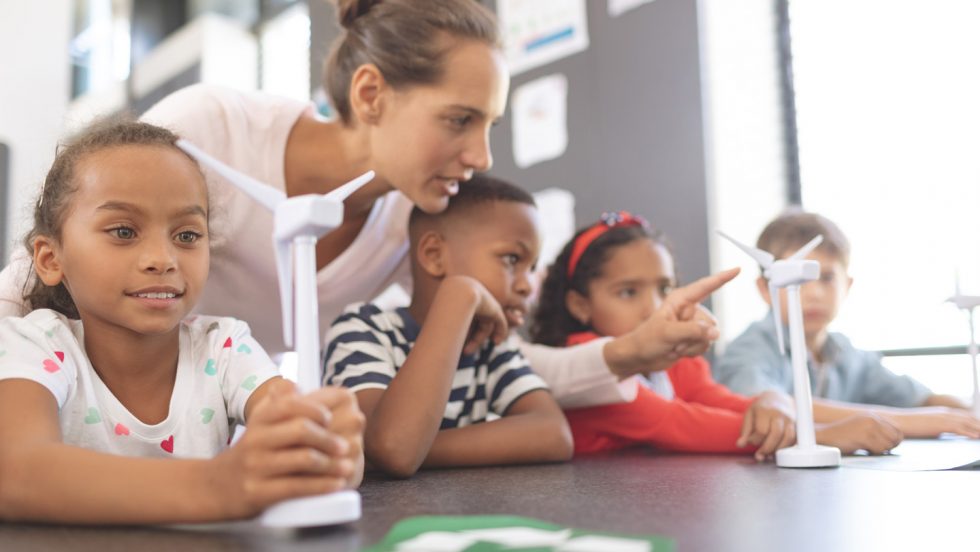 Nothing makes a more positive impact on student learning and success than well-prepared teachers, according to Teacher Residencies: Supporting the Next Generation of Teachers and Students, a 2019 report issued by the office of New York City Comptroller Scott M. Stringer.
Such teachers are especially needed to teach math and science in New York City public schools that serve marginalized communities. And the report concludes that hands-on, paid teacher residency programs provide prospective teachers with solid preparation for the challenges they will face in their classrooms.
That's why Adelphi's College of Education and Health Sciences is partnering with the New York City Department of Education (NYCDOE) in an exciting Urban Teacher Residency (UTR) program.
The program is a win-win: New York City schools and students benefit from these well-prepared teachers, while Adelphi graduate students receive a unique, immersive opportunity for professional development and a path to full-time teaching positions. UTR programs have an impressive record of success: To date, 100 percent of residents who have completed a residency year have been hired as full-time teachers.
"Teacher residency programs offer Adelphi students opportunities for increased innovation within a clinical practice setting, ultimately strengthening their own practices as new teachers," said Tracy Hogan, PhD, science professor in the Ruth S. Ammon School of Education within the College of Education and Health Science. "We are thrilled to partner with our colleagues at the New York City Department of Education to offer this teacher preparation pathway at Adelphi University."
The first cohort of residents will enter the program in 2022, with final applications due by March 4, 2022.
Preparing Teachers to Support New York City Students
The NYCDOE/Adelphi UTR program is designed for culturally competent future educators—whether career changers or recent college graduates—who are passionate about supporting New York City students, especially those who have been historically marginalized by systemic inequities.
For new teachers, their first years of teaching establish a path to lasting future success. UTR program residents will benefit from intense clinical practice and comprehensive support, while earning a master's degree in adolescent education, along with New York state teacher certification in science or math. Graduate coursework aligns with clinical experience in New York City public schools to fully prepare socioculturally responsive educators who are firmly committed to nurturing both individual student and school community success.
The UTR's school-based approach additionally supports participants' professional development by putting student learning front and center. UTR residents will apply classroom learning at Adelphi's Manhattan Center in real time with the students they teach, while receiving individualized, targeted support from a personal teaching mentor and post-residence support as well as job placement assistance, a salary and eligibility for healthcare benefits.
A Community of STEAM Teachers
An intensive summer experience led by UTR program and Adelphi staff prepares residents ahead of their residency. Once placed within a New York City school, each resident will teach a part-time course load while engaging in the school community, honing their teaching skills and receiving constructive feedback and crucial support from program staff, faculty members and fellow graduate students in the program.
After completing the program, residents join an interdisciplinary community of STEAM (science, technology, engineering, the arts and mathematics) teachers they can collaborate with on curricular planning and instruction. They will also continue to receive mentorship and program guidance—including the kind of invaluable hiring, interview, application and certification support that leads to full-time, postgraduate teaching positions.
Learn more about the NYCDOE/Adelphi Urban Teacher Residency program.