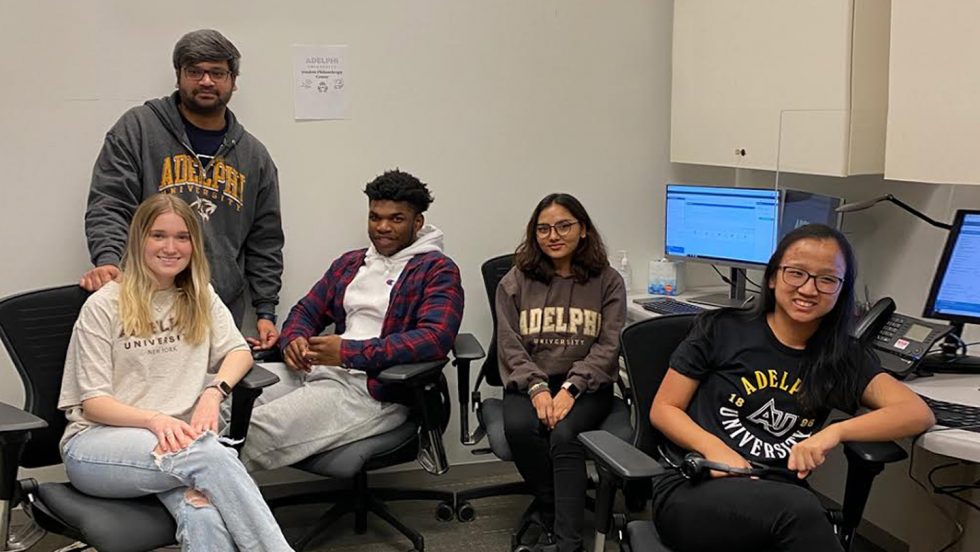 On February 8, the Adelphi University Office of University Advancement and External Relations (ADVEX) opened the Student Philanthropy Center (SPC), a new space that provides student workers with the opportunity to connect with donors and alumni while fundraising for the University.
Building on Adelphi's 60-year tradition of connecting students with donors to engage them in philanthropic giving, the Student Philanthropy Center (SPC) reinforces two Momentum 2 strategic goals: sustaining a caring, connected community and the institution's smart growth. The center's launch builds on ADVEX's record-setting year of fundraising in support of Adelphi's world-class academic experience and preparing the next generation of leaders.
The SPC, on the second floor of the Nexus Building on the Garden City campus, is equipped with technology that enables students to use a multichannel approach—phone, text and email—to engage potential donors via their preferred method of communication.
"The launch of the SPC offers an outstanding experience for our student workers—the next generation of philanthropic leaders—as they connect with our generous donors and share their stories," said Thomas Kline, EdD, vice president of University advancement and external relations. "This is a positive shift from the outside vendor model we were using, and it is a win-win for our students and donors who now have a more personal experience."
The SPC's student staff is eager to engage with Adelphi donors, and here's what they have to say about their new roles:
"We try to do our part to help make a difference in the Adelphi community."—Shamar Ridley, sophomore finance major
"It's always fun and exciting to talk to the alumni and hear their stories. I'm glad to help them give back to the Adelphi community."—Sri Lakshmi Sannidha Varada, MS in Supply Chain Management student
"Getting to hear from alumni about their experience and how Adelphi helped shape their futures helps me get a better picture for my future."—Thea Crouch, sophomore majoring in history and art
"I just always believed in giving back to the community and standing up for your fellow students, helping each other out, and this is the center exactly for that."—Maneeth Mylavarapu, Master of Public Health student
The SPC student staff can be reached at 516.877.3408 or spc@adelphi.edu.