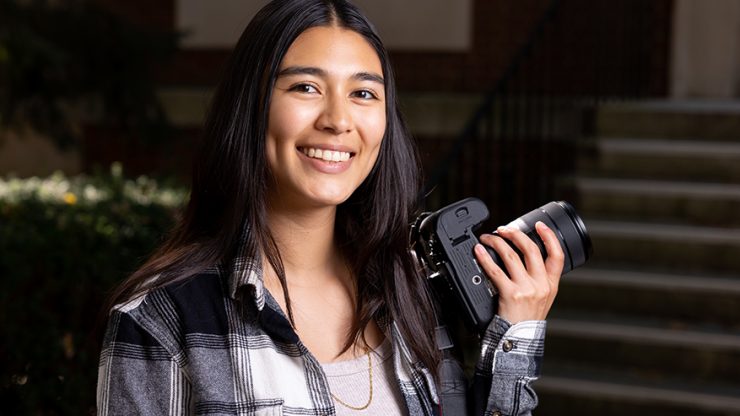 Recent communications alumna Ana Lyz Rodriguez '22 created five powerful video profiles of Hispanic students at Adelphi. Watch their stories, and read about her own story as a filmmaker and advocate.
Ana Lyz Rodriguez '22 sat in her first planning meeting late this summer as the new media assistant for Adelphi's Office of University Communications and Marketing (UCOMM). When her colleagues brought up the subject of the best way to celebrate Hispanic Heritage Month, from September 15 to October 15, she had an idea.
Rodriguez, who was born in Guatemala, suggested creating a video about international students from Spanish-speaking countries. As a recent communications graduate, she had already spoken with friends about telling their stories and improving representation. Now she had an opportunity to make that happen.
The result is a powerful video series profiling five Hispanic students at Adelphi, each from a different country.
"Embracing one's culture and taking pride in it is such a beautiful thing that everyone should be able to do," Rodriguez said. "Latinos have struggled so much throughout history. We've fought for representation and for support, and we still do today. I want other students like myself to feel seen, to be encouraged to step out of their comfort zones in order to reach their dreams."
Giving students their moment
Rodriguez produced the series in just a few weeks, quickly reaching out to friends and other Hispanic international students who might want to tell their stories. The video team from UCOMM helped record B-roll, and Rodriguez conducted the interviews herself. She then pulled on her communications experience to edit and produce the final products.
"I had promised one video, but when I was editing, I realized that each student should have their moment," Rodriguez said. "After all, we had a whole month. So I told my supervisors and they agreed."
For each profile, Rodriguez created a one-minute reel for social media and an extended video for YouTube.
"The goal is to be as inclusive as possible, and there's no better way to do that [than with video]," Rodriguez said. "We can have statements saying that we believe in diversity, equity, inclusion and belonging, but actually showing this on our social media is important. Actions speak louder than words."
A prime example of student success
This video series isn't Rodriguez's first, and it won't be her last. Before graduating, she produced and took part in a video about first-generation students at Adelphi. It was created for a student panel led by then junior Miguel Velasquez and Jason Menjivar '22.
"The whole project was student-led," Rodriguez said. "We just did it because we wanted to. Students are hungry for these kinds of stories."
When Rodriguez first came to Adelphi, it took her some time to adjust. Since her mom is from New York, she never felt 100 percent Guatemalan, but she wasn't sure she belonged in America either. On campus, she quickly befriended the Hispanic kitchen and maintenance staff and considered them her "newfound familia."
"Getting to know a little bit more about their stories every day is something I'll always carry with me," she said. "These are great people who work extremely hard to make students' experience at Adelphi a pleasant and memorable one. I still [visit them] today whenever I go back to campus."
Rodriguez also found a sense of purpose in her communications classes, where she discovered her passion for media and storytelling. She cites Jack Furtado, technical director of the communications department, as a major source of inspiration and help for her projects.
"I still check out equipment from Jack for my work," Rodriguez said. "He's given me so much insight in terms of how to use the equipment. He's helped me and many other students grow as content creators."
Meanwhile Furtado sees Rodriguez as a prime example of student success at Adelphi.
"Ana is somebody who I will point to for years as a very successful student in our department," Furtado said. "She's special because of what she brings to her work—her own personality and desire to always want to better herself and those around her. We were lucky just to have her in communications."
Now, as Rodriguez continues to grow her career, she looks forward to creating more videos that help give people a voice and tell their stories.
"These videos shouldn't be limited to holidays or thematic months," she said. "Building a truly representative and inclusive platform for our community has to be a continuous effort. Everybody deserves to be listened to and my goal is to enable that through my career."
Watch two videos from Ana Lyz Rodriguez's series of profiles of Adelphi students from Latin America.  Meet María Rivadeneira, a senior from Ecuador majoring in international studies, and Pablo Martínez-Sistac, a senior from Colombia majoring in journalism and political science.