by Kurt Gottschalk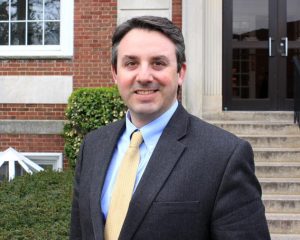 Confusion and worry aren't just symptoms of dementia. They can afflict family members as well. And too often, caregivers aren't prepared to address the emotional toll on patients and families.
A new, graduate-level elective, however, will help prepare social work students to face the challenges of a patient with a deteriorating mind and little hope of recovery.
In February 2017, the class—Social Work Practice With People Living With Dementia, proposed by  Assistant Professor Daniel Kaplan, Ph.D.,—was approved by the School of Social Work. It will be offered in the Fall 2017 semester.
"It's hard for students to envision, 'How do I have a conversation with someone in this position?'" said Dr. Kaplan, who first taught the class as a doctoral candidate and doctoral fellow at Columbia University. "We had students in field placement where they work with older adults in nursing homes and they were practicing the skills of building relationships with clients. They'd sit down with people who are aphasiac or amnesiac and they had no idea how to relate with this person. They needed help in those situations and understanding what the role can be." 
More than 5.5 million U.S. families include a member living with dementia and the effect can be devastating for all involved. According to Dr. Kaplan, 90 percent of all dementia care is provided by family members who often are under persistent worry, grief and frustration. When a professional caretaker or social worker enters the scene, they can feel just as lost.  
Understanding what the afflicted person is going through is the first step toward being able to help, he said.
"People with advanced dementia have lost so much—their understanding of what is happening around them, their ability to perform simple tasks that were once easy, their memory of life experiences, their ability to regulate their emotions and even decide which of their beliefs and perceptions are reliable," Dr. Kaplan said. "This malfunctioning of the brain leads to a persistent and conflicting combination of confusion, worry, anger, grief and frustration."
Unpredictable behavior—such as outbursts from mood swings, paranoid aggression toward caregivers, refusal to accept help or care, wandering away from the home and becoming lost—disrupt the lives of the afflicted individual and their caregivers as they grow worse, he explained. And all too often, such occurrences only grow in frequency and intensity.
"People need to understand that dementia is fully devastating," he said. "It may start out with mild confusion and trouble finding words, but these are terminal diseases that eventually cause profound disability in every area of human functioning."
The class, Dr. Kaplan added, will have application for any social work student, not just those working with elder care.
"If you have sufficient knowledge and skills and values," he said, "you can tailor your social work interaction to meet the needs of any person, irrespective of their needs or level of impairment."
---
For further information, please contact:
Todd Wilson
Strategic Communications Director 
p – 516.237.8634
e – twilson@adelphi.edu