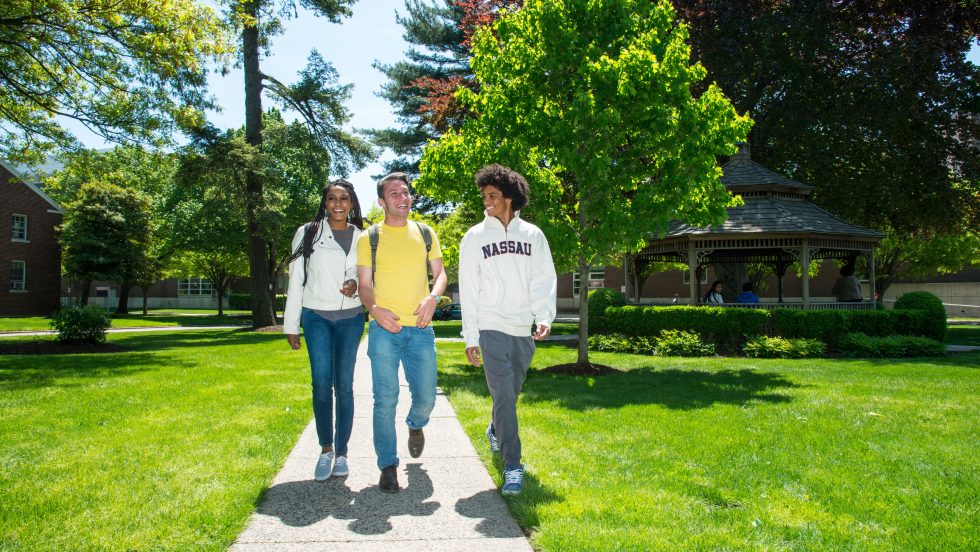 Beginning in Fall 2021, students enrolled at Nassau Community College (NCC) will be able to continue earning their associate degrees while being a part of campus life at Adelphi University. In addition to being able to live at Adelphi and participate in University activities, they will gain easy access to streamlined transfer pathways for completing their bachelor's degrees.
Called Nassau-Adelphi Gateway, the distinctive partnership is a first of its kind on Long Island and one of only a few in the country. The option provides a best-of-both-worlds choice with the affordable tuition of beginning one's studies at Nassau Community College while taking advantage of the four-year co-curricular experience—living and dining on campus, participating in clubs and recreation, and generally being part of the Adelphi community outside the classroom. Students will then be able to easily transfer into an Adelphi degree program and hit the ground running.
"Adelphi is committed to helping students achieve success in individualized ways, and I am pleased that this program offers an equitable and appealing option to students planning to earn a bachelor's degree," said Christine M. Riordan, PhD, president of Adelphi. "As part of our vibrant Adelphi community from the start of their academic journey at Nassau Community College, students will seamlessly have access to a four-year experience in a way that works best for them. We look forward to building on our strong partnership with Nassau Community College and supporting students' success in accessible and meaningful ways."
NCC students who enroll under the new program will be able to use Adelphi facilities, participate in Adelphi student clubs, organizations and leadership development programs, have a parking decal for Adelphi's campus at no charge, have their application and deposit fees waived, and have access to early academic advising from Adelphi's transfer student success team.
"At Nassau Community College, we are focused on providing our students with equitable opportunities that provide a solid foundation for their future successes, and with Nassau-Adelphi Gateway we are doing just that," said Jermaine F. Williams, EdD, Nassau Community College president. "This partnership builds on an already existing positive relationship NCC has with Adelphi and we look forward to advancing the college's efforts around student access, completion and post-completion success."
NCC and Adelphi anticipate that this program will increase enrollment at both institutions, given its innovative approach to transfer accessibility and student success.
Learn more about Nassau-Adelphi Gateway on both the Adelphi and NCC websites.
About Nassau Community College
Nassau Community College is an institution where nearly 14,000 full-time, part-time, Workforce Development and continuing education students start and continue their successful journey through higher education. More than 80 fields of study are offered on a 225-acre campus located in the center of Long Island. As the largest single-campus two-year college in the New York State SUNY System, Nassau Community College offers a high-quality education and excellent support services, providing students with a solid foundation for their future successes. Nassau Community College graduates join a network of hundreds of thousands, representing professionals in healthcare, legal, education, business and government.
About Adelphi University
A modern metropolitan university with a personalized approach to higher learning. Adelphi University, New York, is a highly awarded, nationally ranked, powerfully connected doctoral research university dedicated to transforming students' lives through small classes with world-class faculty, hands-on learning and innovative ways to support academic and career success. Adelphi offers exceptional liberal arts and sciences programs and professional training, with particular strength in our Core Four—Arts and Humanities, STEM and Social Sciences, the Business and Education Professions, and Health and Wellness. Recognized as a Best College by U.S. News & World Report, Adelphi is Long Island's oldest private coeducational university. It serves more than 7,500 students at its beautiful main campus in Garden City, New York—just 23 miles from New York City's cultural and internship opportunities—and at dynamic learning hubs in Manhattan, the Hudson Valley and Suffolk County, as well as online. More than 118,000 Adelphi graduates have gained the skills to thrive professionally as active, engaged citizens, making their mark on the University, their communities and the world.