An Adelphi chemistry professor is taking select students on a big journey to study very small things.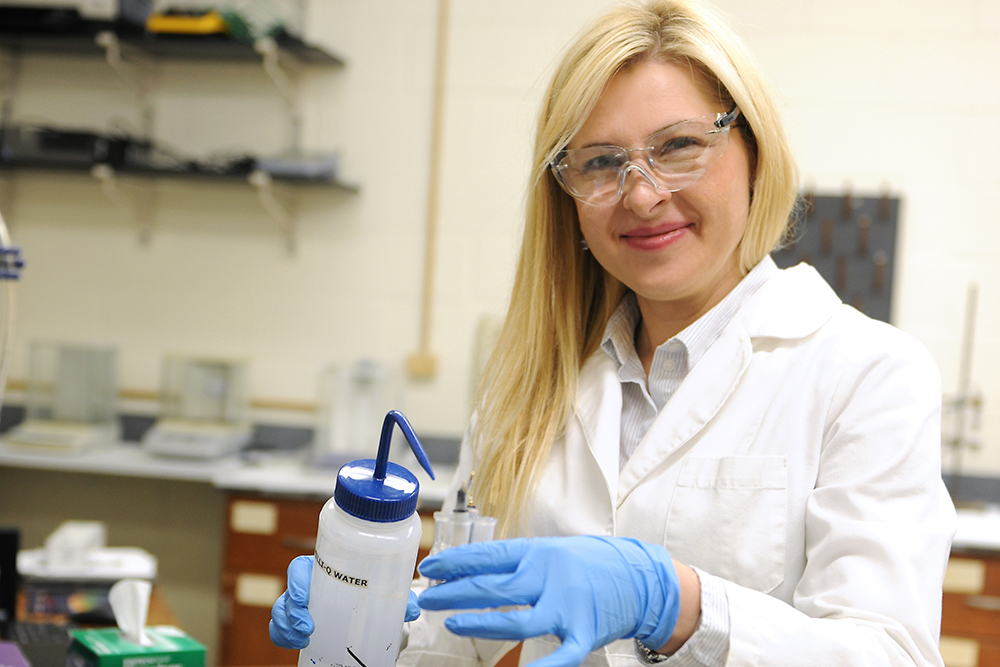 ---
An Adelphi chemistry professor is taking select students on a big journey to study very small things.
Justyna Widera-Kalinowska, Ph.D., runs a research program for students in nanotechnology. The program culminates in a trip to the University of Warsaw in Poland, where students spend the summer experimenting with high-tech equipment alongside top materials scientists from Europe.
The goal is to investigate the use of new nanomaterials that would improve the efficiency of solar panels and work to break down dangerous pollutants in water.
Now in its second year, the International Research Experiences for Students program is funded by a $250,000 grant from the National Science Foundation. It gives chemistry (and occasional physics) students access to world-class technology and concepts beyond what undergraduates regularly study. To qualify for a place in the research group, participants should have a strong science background and the ability to take on advanced concepts. Underrepresented students are especially encouraged to apply.
"I want these students to be familiar with the technology," Dr. Widera-Kalinowska said. "Many students are asking about this—it is a growing field."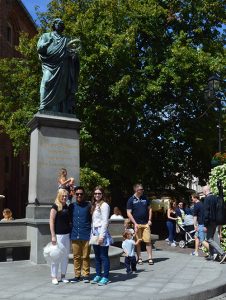 Research on two continents
Dr. Widera-Kalinowska, a native of Poland, earned her doctorate at the University of Warsaw and has been an associate professor at Adelphi for 13 years. Her research involves the creation of new materials that can serve a variety of purposes. She's currently investigating two uses: making solar-electric (photovoltaic) panels more energy efficient and more affordable, and exploring the potential of light-activated (photocatalytic) material that could degrade industrial pollutants and waste materials in water. These materials could one day be used to turn toxic water into safe drinking water.
Dr. Widera-Kalinowska has had a working relationship with the University of Warsaw for many years, and she's brought students there through previous grants as well.
Dr. Widera-Kalinowska's research group meets for an hour a week during the fall and spring semesters, studying nanotechnology-related concepts and taking turns presenting what they've learned. While the program accepts up to 12 students a year, only the top students are invited to take part in the summer-long research work. Students who travel to Poland earn nine credits from the University of Warsaw and a generous stipend for the two-months of summer work, which is entirely funded through the grant.
Students who qualify for the trip face a summer of hard work, with many hours a day in the lab. They work with electron microscopes and other high-tech machines, shoulder-to-shoulder with some of the world's top chemical scientists, to establish which chemical configuration offers the best performance for use in solar power or chemical degradation.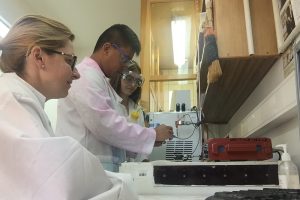 A summer of culture and experience
But the trip to Poland isn't all work. The students tour Warsaw, including the house where the Nobel Prize-winning physicist and chemist Marie Curie was born. They also visit Kraków and Toruń, home to the celestial thinker Nicolaus Copernicus.
"This is also a cultural trip," she said. "It's pretty important that we have well-rounded citizens of the world. This is what I'm trying to do."
Momoka Nagamine, an Adelphi junior majoring in chemistry, went to Poland with the group last year. She said she was intimidated at first to be working with such world-class scientists, but quickly found the staff helpful and informative.
"I learned what it is like to be a researcher—for example, how to manage and plan experiments and how to use information from papers," she said. "This experience will help me when I work in a research laboratory in the future."
---
For further information, please contact:
Todd Wilson
Strategic Communications Director 
p – 516.237.8634
e – twilson@adelphi.edu