"Let your truth guide you and let your passion and tenacity sustain you."
Member of Adelphi University's Profiles in Success program.
Member of the Ruth S. Harley Society.

Life recently came full circle for Nancy Rogner, B.S. '75, as she walked on Adelphi's Garden City campus. From student, to graduate, to career, to retirement—her path was never direct, but always an evolution. Stepping back, it makes sense now, and she feels that it was all meant to be.
Nancy's plan to come to Adelphi stalled before it even began. She was set to start in the fall of 1971 when a diagnosis of mononucleosis in August forced her to miss her first semester. Once she finally arrived on campus, however, she hit the ground running. Determined to graduate with her intended classmates, Nancy made up for her absence by taking 18 credits a semester in order to receive her diploma on time. As a commuter student, she was focused on fully immersing herself in the college experience. Nancy was a soccer and basketball cheerleader, the co-chair of a 54-hour dance marathon (which raised $10,000 for the Arthritis Foundation) and the president of the Class of 1975. She succeeded in each of these activities while also working part time at a local movie theater. Her accomplishments were so impressive, Adelphi nominated Nancy for the 1975 edition of Who's Who in American Colleges and Universities.  
In her Convocation speech before graduation, Nancy delivered wise advice to her classmates:
Enjoy life's beauties, and conquer its problems with courage, strength, determination, love, and most of all, with pride in yourself. Believe in yourself, challenge life, and success will follow.
Conquering those life problems began immediately after graduation.  With her Adelphi bachelor's degree in early childhood education and a lifelong plan to teach elementary school,
Nancy quickly discovered there were no jobs available. With no viable career options, she took a risk, followed a friend's tip and went into pharmaceutical sales.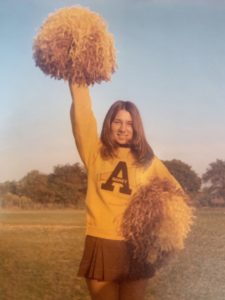 Six months after graduation, Nancy tapped into that courage and strength she spoke about, and joined the team of Sterling Drugs as one of the first women in the industry. The timing of the employment could not have been better; the profession would soon have a waiting list of businesspeople eager to break into the lucrative field. Her charge was to call on doctors in their private offices throughout the south shore of Nassau county. Nancy once again hit the ground running. The position of sales representative, she quickly discovered, was very similar to that of
a teacher. Instead of explaining a concept, she was explaining a product. She tapped into her core strengths that she discovered at Adelphi—communication, honesty, diligence, determination—and soon began winning award after award for the highest sales in the company. 
Despite her success, Nancy initially found the transition from college to work life difficult. After being so accustomed to having friends around, she was often alone when on the road meeting clients. Through the support system she developed with her colleagues and boss, she soon came to enjoy being responsible for her own time, and the flexibility that came with the position.
During most of her career, there were a few small mergers that involved Nancy's company, but her role remained the same. Over time, her responsibilities transitioned from doctors' offices to hospitals, where Nancy found even more opportunity to teach—instructing nurses, fellows and students on how to use her company's products. Around the year 2000, however, the healthcare industry began to change, and the role of the pharmaceutical companies had to adapt. During this time, the industry became more business oriented, and doctors as decision makers were replaced with executives who were only concerned with cost-effectiveness. The rapport building with doctors and hospital staff, into which Nancy had invested so much time and effort, was eliminated from the sales experience. At this same time, her company was acquired by General Electric. Her division was faced with waves of layoffs and, although Nancy was spared, she lost many of the colleagues with whom she had been working closely for decades. Because of those staffing cuts, her territory grew exponentially, and she became responsible for all the hospitals within Long Island, Brooklyn and Manhattan. 
Ultimately, six weeks short of 38 years in the business, Nancy too was laid off. 
Not quite ready for retirement, Nancy worked briefly for a respite care facility, but found it difficult to adapt from a corporate culture to a locally run establishment. She turned to volunteering, and found herself enjoying life's beauties, as she mentioned years ago in her
Convocation speech at Adelphi. Nancy gave her time to the Old Westbury Gardens and the North Hempstead Animal Shelter. She reconnected with her love of teaching by helping four
and five-year-olds at a local Head Start program. She became involved in the Pulse Center for Patient Safety Education and Advocacy; she now serves on their Board and uses her
healthcare knowledge to assist the organization in its mission to advocate for patients and their safety. Through her volunteerism, she has connected with what she finds most important—and beautiful—in life.
Nancy can sometimes be spotted on campus, walking the grounds and visiting the gardens. Her strong feeling of connection to the University inspired her to become a member of the Ruth S. Harley Planned Giving Society, where she has established a gift to the school to build a beautiful garden for future students to enjoy. Reflecting on Adelphi's motto, Truth Shall Set Us Free, and the beauty of the school's landscape, Nancy has some advice for current students:
Let your truth guide you and let your passion and tenacity sustain you.
---
For further information, please contact:
Todd Wilson
Strategic Communications Director 
p – 516.237.8634
e – twilson@adelphi.edu