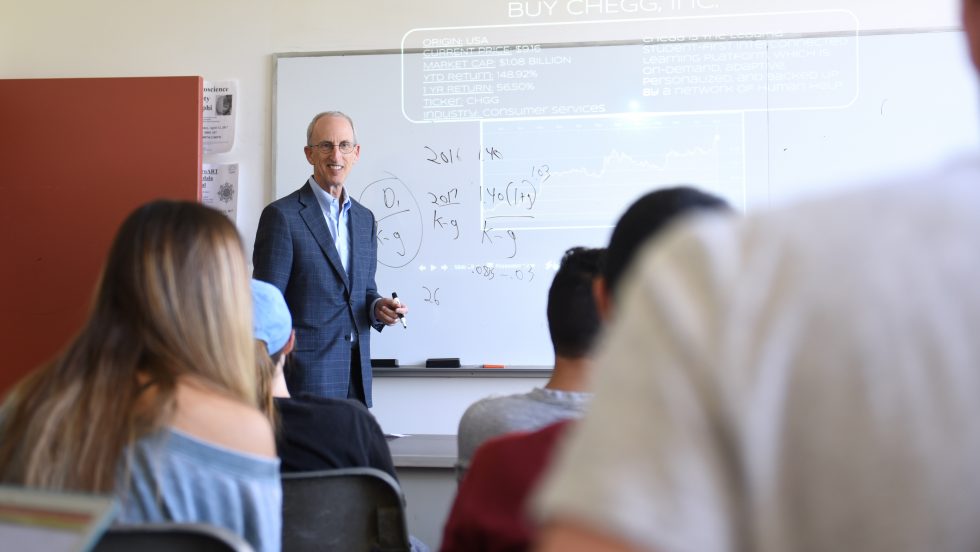 Adelphi's Student Investment Fund is an invaluable part of finance majors' academic careers, giving these students real trading experience and preparing them to hit the ground running once they enter the world of professional finance.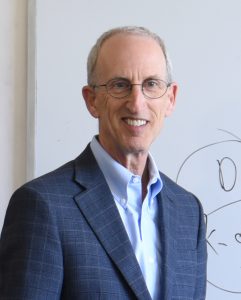 An important part of the class is the James Riley, Jr. Trading Room, where students work at the same type of Bloomberg terminals used on Wall Street, trading with real funds (an earmarked part of the University endowment).
Robert Goldberg, clinical associate professor of finance and economics, created the class when the fund was established in 2008, bringing his own real-world experience to the class. Goldberg has worked for investment firms around the world, including Barclays Capital and Merrill Lynch. He has now been faced with moving Adelphi's trading floor online and addressing a new set of challenges while trying to keep his class in the black.
---
The class met via Zoom during spring break. Why was that deemed necessary?
I wanted to stay in touch with as many students as possible during the break to give them a sense of continuity and community. The Student Investment Fund runs with very tight deadlines, so it is pretty typical for students to do some work during school breaks. Knowing that there was a pretty high likelihood that our regular routine was about to be disrupted, we thought it was a good idea to try to get ahead of the curve.
What sort of preparations did the class undertake in order to move online?
The class is a pretty good user of communications technology, so we did not have to take any extra steps to prepare.
The James Riley, Jr. Trading Room is an important part of the class. What have you done to replicate that or make up for the loss? How successful has that been?
Not having access to the trading room is a big blow to the class since so much data and information comes from the Bloomberg terminals. I have remote access at home so I am spending considerable time looking up data for students and sharing screens with them. But, of course, there is no way to replicate a student sitting alone at a terminal for hours at a time.
The coronavirus pandemic has led to some mercurial shifts in the market. How is the fund faring? What has that meant for the students?
The fund is invested in a broad mix of stocks and bonds, so while it has declined, like most investments, the losses on stocks have been somewhat muted by gains on bonds. The current environment has provided a valuable lesson to students about volatility and the benefits of diversification.
How have students been adjusting? What sort of feedback have you been getting from them?
Most of the students are adjusting, though everyone has their own unique set of challenges, whether it be health, family, work, financial or living conditions. Some of my students are from outside the U.S., so they also have to deal with different time zones. As is often the case, some students are better positioned than others to deal with these changes and resulting stresses, so the result is a further widening in the performance spectrum normally seen in this course.
What did you learn about teaching online in those first sessions?
The Student Fund works by having an open discussion around a draft set of slides, so the sharing aspect of Zoom works pretty well in recreating that environment. To me, the most difficult aspect is the loss of eye contact with individuals as a way of both conveying information and gauging involvement and understanding.
Had you taught classes online prior to this?
I regularly teach a graduate course where 40 minutes a week is done using a real-time Moodle chat forum. But those sessions are supplementary to the main classroom session. Moving to 100 percent online is very different and presents its own set of challenges related to student engagement.
What do you hope to build or develop over the rest of the semester and, moving forward, should some form of the lockdown continue?
The class process is pretty well established and I do not anticipate any further changes this semester to our new routine. However, over the summer I plan to look back and reflect upon what worked, and what did not work, and this will help me better prepare for the future.
Is there anything you're developing or putting into place that will continue to be of use once you move back to the classroom?
At this time, I am just trying to deliver the best possible educational experience to my students. I will have all summer to reflect and prepare for the future.
---
For further information, please contact:
Todd Wilson
Strategic Communications Director 
p – 516.237.8634
e – twilson@adelphi.edu