Annual Commencement ceremonies for Adelphi University graduating students took place Friday, May 18, at NYCB Live: Home of the Nassau Veterans Memorial Coliseum.
Annual Commencement ceremonies for Adelphi University graduating students took place Friday, May 18, at NYCB Live: Home of the Nassau Veterans Memorial Coliseum. More than 1,700 graduating students included those completing bachelor's, master's and doctoral degrees this spring or expecting to this summer, as well as those who completed degree requirements in Fall 2017.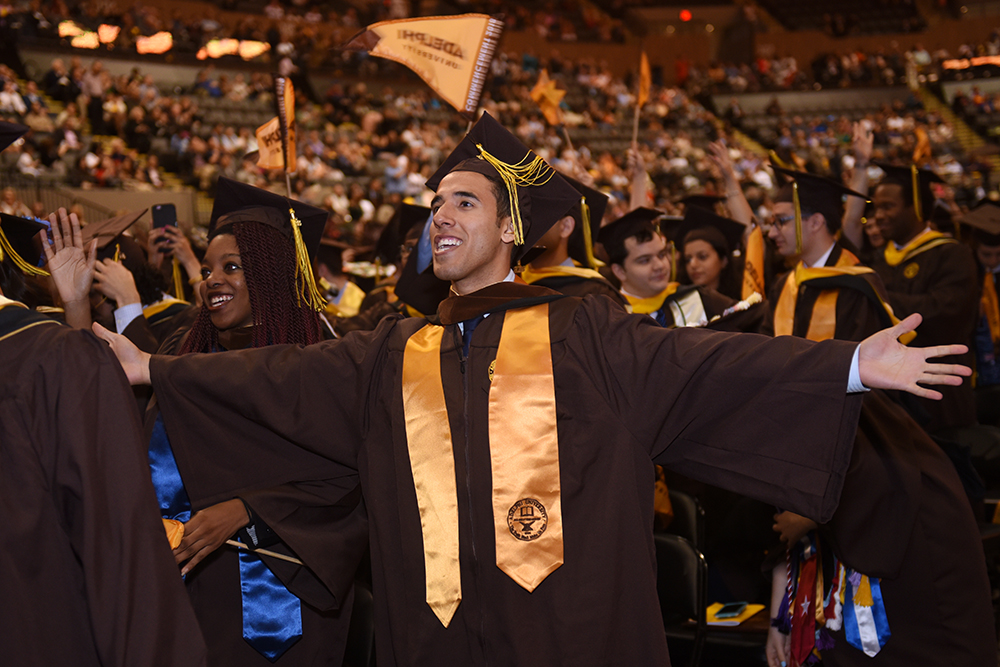 Adelphi University President Christine M. Riordan shared a welcome with the graduates and guests, as did Board of Trustees Chair Ronald B. Lee '67, Interim Provost and Executive Vice President Sam L Grogg, and Faculty Senate Chair and Professor Beth Christensen. Student speakers were Isuri Wijesundara, theatre arts major and Class of 2018 president, and Cristin Sauter, candidate for a Master of Social Work. U.S. Senator Chuck Schumer of New York also spoke to the graduating students and guests.
"Keep Adelphi in your hearts," said keynote speaker Richard Garner, dean of Adelphi's Honors College. "Support it in the years to come, because it's your school. It's an instrument of higher education—a forum for the creation and expression of ideas, for the transmission and creation of knowledge—and as such it's one of the means to make your future better and even a future beyond yours that none of us will see."
Other events leading up to Commencement included a Lavender Graduation Celebration to honor lesbian, gay, bisexual, transgender, queer and ally students and to acknowledge their achievements and contributions to the University and a Multicultural Graduation Celebration to recognize the academic achievements and contributions of underrepresented students. Commencement week events included the Nursing Pinning Ceremony, on May 17, and the Doctoral Hooding, held in the afternoon following Commencement ceremonies.
Five graduating students were featured in video profiles shared at Commencement.
Rebecca Gotterbarn, from Garden City South, New York, was a scholarship athlete in bowling and an Academic All-American, and worked in computer security in Adelphi's Office of Information Technology and as a campus tutor. She received her Bachelor of Science with a major in computer science and minor in history and plans to work in information security. See her video.
Lentz C. Lefevre, from Huntington, New York, is a Marine veteran who served in Iraq, a former banker (including serving as an assistant vice president and business banker for Chase Bank in Huntington), and a Red Cross volunteer in the aftermath of Hurricane Irma. He is completing a Master of Public Health and plans to become a physician. See his video.
Chitralekha Kar Pooja, from Dhaka, Bangladesh, was in Adelphi's Levermore Global Scholars program, established the United Nation Association-USA Adelphi Chapter, and worked to create a sustainable clothing supply chain in Bangladesh and a sustainable earning system for acid-attack victims. She earned a Bachelor of Business Administration in Accounting and hopes to work in the sustainable clothing industry and for the United Nations. See her video.
Charlotte Champigny, from Harrison, New York, earned a bachelor's degree in biology—after overcoming two debilitating strokes suffered before she started college. With the help of many on campus, in particular the Bridges to Adelphi program, she received her degree and hopes to continue working in medical or scientific research. See a story about her from earlier this year—along with the video.
---
For further information, please contact:
Todd Wilson
Strategic Communications Director 
p – 516.237.8634
e – twilson@adelphi.edu