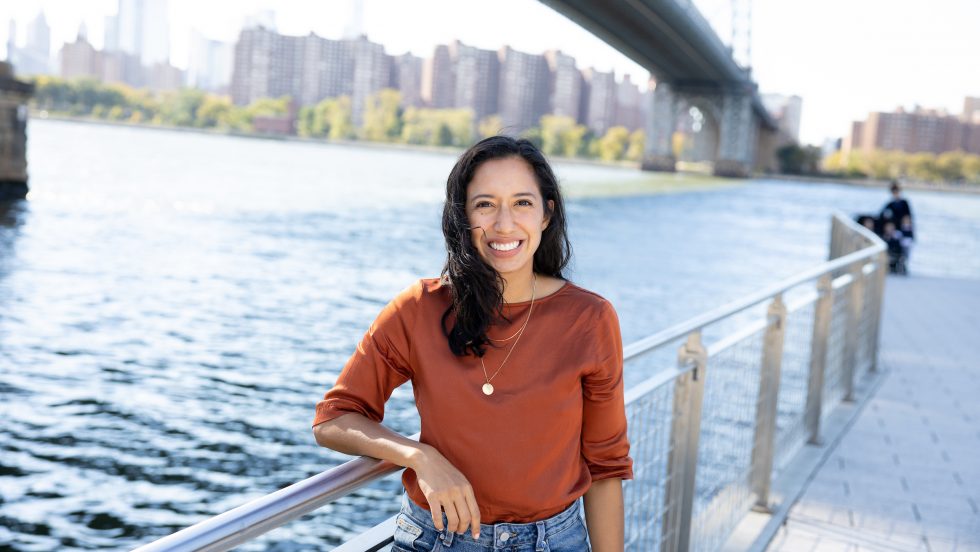 Adelphi changed my life by teaching me how to be a leader and a doer.
Member of Adelphi University's 10 Under 10
Director of Individual Giving, Planned Parenthood of Greater New York
Monica Martinez has dedicated her life to helping others in need and giving back to the community. With a prolific career in fundraising for non-profit organizations, she is grateful for the people and experiences that contributed to her journey to being a leader of change.
Adelphi offered a number of community service organizations for Martinez to get involved with, giving her many opportunities to delve into volunteer work. Small classroom sizes enabled her to get to know her professors, who contributed to both her education and her personal growth. Outside of the classroom, Kelvin Campbell, Monica's track and field coach, inspired her to "always be a doer."
With the help of her MBA advisor, Neil Halloran, Martinez was hired as a summer intern in the human resources department at 1-800-FLOWERS.COM. After the conclusion of the internship, she was invited to work as the special events and communications coordinator for Smile Farms, a local non-profit founded by the owners of 1-800-FLOWERS.COM. She quickly rose in the ranks, with a promotion first to development and communications manager and later to associate director of development.
In 2019, Martinez moved to Habitat for Humanity New York City, an organization with which she had previously volunteered in the aftermath of Hurricane Sandy. As the individual giving manager, she oversaw a portfolio size of 200 mid-level individual donors and led the transformation of the largest volunteer leadership group, Women Build, into a true movement. Shortly after, she was promoted to senior manager of individual giving. During her time with Habitat for Humanity NYC, Martinez worked to combat the NYC housing crisis brought on by the COVID-19 pandemic while also providing meals, financial planning resources, and mortgage relief to thousands of people in need. Her job enabled her to travel to Vietnam to work with a local Habitat affiliate, where she built houses and rewarding relationships with both local residents and her fellow volunteers.
Martinez's passion for women's rights, fundraising and creating deeper relationships with donors led her to a career move to Planned Parenthood of Greater New York in 2021.  As the director of individual giving, she now manages a portfolio of 150 major individual donors in New York City. Her experience working with limited resources and advocating for causes she is passionate about have proven to be her proudest accomplishments.
In addition to her career, Martinez works equally as hard in her volunteer role at the Advisory Group for FREE (Family Residence and Essential Enterprise), an organization that helps individuals of all abilities realize their full potential. She was also a member of Ladies First Astoria, a collective of women supporting women, and the Board of the Association of Fundraising Professionals-Long Island Chapter, where she helped to bring resources and educational programming to nonprofit organizations on Long Island. Recently, Martinez concluded a two-year tenure on Adelphi's Alumni Advisory Council.
Looking back, Martinez credits her leadership success to her numerous experiences at Adelphi, including being a senior commuter assistant, a teacher's assistant in the School of Business, captain of the track and field team, and graduate assistant for campus recreation and center for student involvement. She urges current students to make the most out of their college experience at Adelphi: "Create a list of your interests. Once you've taken this first step, see what majors, on-campus organizations, leadership opportunities, jobs, and so forth align with them. You might find a career track that lines up with your priorities, you will work with organizations that you're passionate about (if you're like me, it might turn into a career!), and you'll meet like-minded people who share your common interests."