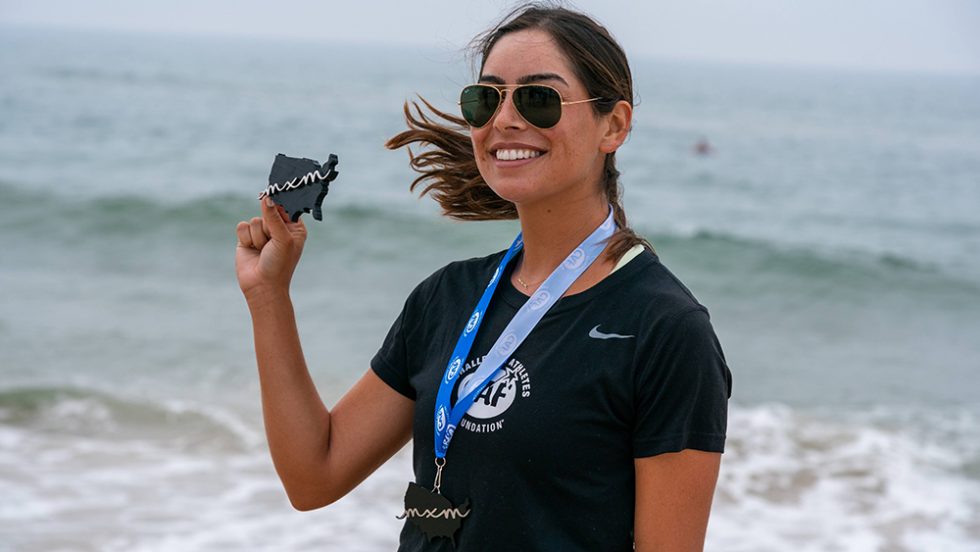 On her website and social media accounts, Molly Cuevas '16, MS '17, called her cross-country journey "3,000 miles. 3 months. 1 reason."
What she's referring to is her goal to run across the country, from the Pacific to the Atlantic, to raise funds for the Challenged Athletes Foundation (CAF), a nonprofit organization based in California, her home state, that provides opportunities and support for athletes who face physical challenges.
On June 30, the field hockey alumna crossed her final finish line at The Plaza, located in the center of Montauk, New York, surrounded by family, friends, teammates and supporters.
Cuevas ran about 40 miles a day. Along the way, she dodged rattlesnakes in the desert and thunderstorms in the Midwest. She met—and even ran with—athletes who have directly received support from CAF. She visited NCAA national headquarters in Indianapolis with 13-year-old Landis Sims and ran with Adelphi head field hockey coach Mary Moore and former teammates Rachel Colvin '17 and Tina Brindisi '17.
Over the course of her journey, Cuevas was also joined by local news crews reporting on her story. As of publication, Cuevas raised more than $60,000 for CAF. "A lot of people take their able body for granted," she said, "so I just wanted to bring awareness."
Her advice to anyone facing a challenge? "I have three phrases that I've used throughout my life: "'Dare to be great,' Fight the good fight' and 'Never give up,'" she said. "I think those three really translate to anyone and can help them get through any challenge that they're facing."
Watch recent coverage of Cuevas on News 12 Long Island and PIX11. You can track her journey on Instagram and Facebook, and donate to CAF on Molly's behalf at her fundraising page.
---
For further information, please contact:
Todd Wilson
Strategic Communications Director 
p – 516.237.8634
e – twilson@adelphi.edu