A longtime sports writer pays tribute to Adelphi's new head women's basketball coach.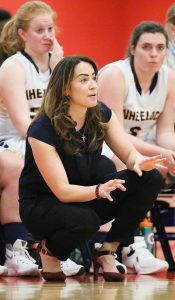 Melissa "Missy" Traversi has been named the head coach of the
Panthers women's basketball team
. She comes to Adelphi after two years coaching at Wheelock College in Boston.
In a
blog post
, Mike Farinella, a staff writer for
The Sun Chronicle
, based in Attleboro, Massachusetts, paid tribute to Traversi, whom he has known since her days playing basketball at Attleboro's Bishop Feehan High School.
"I've been blessed to meet some very good people in the 37 years I have worked for The Sun Chronicle, and some of them have become trusted personal friends. Missy is one of those," Farinella wrote. "I try not to toss around phrases such as 'role model' too lightly, but I would suggest that from her playing days at Bishop Feehan and the University of Maine, through her local coaching at Attleboro High School, and her stewardship of the MT Elite AAU program and basketball camps, Missy has done her level best to advance the stature of basketball in a very positive and inspiring fashion to a generation of young women."
He concluded: "The kid is a dynamo, and I am looking forward to her visits back to the area with her Panthers when they play Stonehill and Bentley as part of their Northeast-10 Conference schedule."
---
For further information, please contact:
Todd Wilson
Strategic Communications Director 
p – 516.237.8634
e – twilson@adelphi.edu