Michiko Tomura, PhD '19 conducted her dissertation mostly in Japan but was always connected to Adelphi while she explores nursing care in research and teaching.
"Dissemination of nursing research on an international level is reflected in the work of Michiko Tomura," said Associate Professor Patricia Donohue-Porter, MS '78, PhD '87, director of the PhD program at the College of Nursing and Public Health. "Her goal has always been to influence caring pedagogy in her homeland when she completed her dissertation."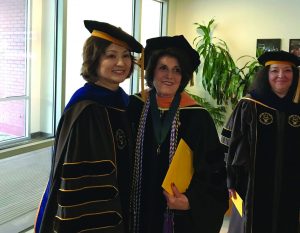 Awarded the PhD during the May 2019 Doctoral Hooding Ceremony, Dr. Tomura has already influenced caring pedagogy in Japan, for instance, by helping to translate into Japanese the work of noted nursing theorist Jean Watson, PhD, who integrates caring and healing with educational and clinical practices in her book, Human Caring Science: A Theory of Nursing, 2nd ed., published in Fall 2014, and by coordinating an international conference on nurse caring in Hiroshima.
Both of those opportunities came about through building relationships at the Japanese Red Cross Hiroshima College of Nursing (JRCHCN), where she has been a 14-year faculty member—and by being in the right place at the right time.
Dr. Tomura, now professor in psychiatric and mental health nursing at the college in Hiroshima, received her bachelor's degree from that same college in 1992 and a master's degree from the University of Illinois at Chicago in 1998. From 2000 to 2013, she had worked at the college in Hiroshima— whose educational philosophy is based on human caring and Red Cross principles. She then left to fully focus on her doctoral studies in the United States, at the College of Nursing and Public Health. In April 2018, she returned to Japan in her current post.
[pullquote direction="left"]"I conducted most of my dissertation in Japan, and even though I was physically away from campus, I never felt isolated. I've always felt connected"[/pullquote]
Mentored by Jane White, PhD, chair of her dissertation committee, Dr. Tomura said, "I conducted most of my dissertation in Japan, and even though I was physically away from campus, I never felt isolated. I've always felt connected," thanks to Dr. White's mentorship. "In addition, she gave me advice when I needed it, using the most appropriate bird's-eye or bug's-eye view, and provided clear direction and comments to improve the dissertation."
Dr. Tomura pointed out, "I have been working in an academic environment that highlights human caring in education and research at JRCHCN." So it was not a big leap to mental health nursing care in her doctoral dissertation, titled "Psychiatric-Mental Health Nurses in Japan: Empowerment, Moral Distress and Coping Strategies."
She added, "I would like to continue to explore caring pedagogy [in Japan] by facilitating the cycle of research, practice, and theory in nursing education—for example, by incorporating theory into teaching practice. I also want to explore and test new teaching methodologies."
---
For further information, please contact:
Todd Wilson
Strategic Communications Director 
p – 516.237.8634
e – twilson@adelphi.edu