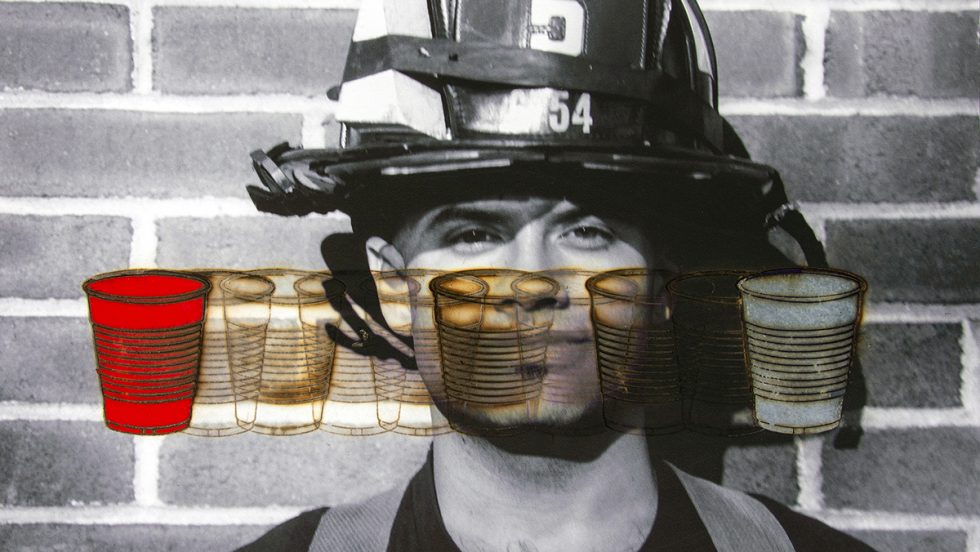 On the 20th anniversary of the 9/11 attacks, an artist revisits personal loss and a national tragedy.
As a child in 1969, Christopher Saucedo, professor of art and art history at Adelphi, visited the World Trade Center construction site with his family before either tower had gone up. Three decades later, his brother Gregory, a New York City firefighter, was lost on the same ground in the 9/11 terrorist attacks. In the tradition of artists who have grappled with extraordinary pain, Saucedo relied on art-making not only to reckon with his personal grief, but also to help us all heal our collective pain.
The two series of works he created, The World Trade Center as a Cloud and Branded Firefighter, were first shown at the New Orleans Museum of Art in 2011. In 2016, the National September 11 Memorial & Museum invited Saucedo to show enlarged versions of this series at a special exhibition, Rendering the Unthinkable: Artists Respond to 9/11.
Five years later, coinciding with the 20th anniversary of the attacks, Saucedo added a third piece to the series, modifying an actual elevator weight salvaged from the Twin Towers cleanup site. The full collection was exhibited as Requiem MMI at the Arthur Roger Gallery in New Orleans in summer 2021.
Though Saucedo, a sculptor, typically uses physical materials such as metal, wood and stone in his art, he felt this body of work required an ethereal voice. For his World Trade Center as a Cloud series, he cast enormous sheets of deep blue paper, each layered with delicate geometric shapes that conjure the now-gone architecture in a nearly recognizable but intentionally intangible manner. Branded Firefighter repeatedly presents a stoic photograph of Gregory in uniform, into which icons of water vessels have been burned.
In an artist's statement for The World Trade Center as a Cloud, Saucedo wrote, "I needed to make an artwork of the World Trade Center but understood it couldn't be physical; too much steel and concrete had already been negotiated." Other sources of tension had to be resolved, too. "I wanted the work to exist outside of time; it had to be both before and after September 11, 2001. … I needed it to remind me of the event that changed everything and still not make me sad. Mostly I wanted to see that blue sky and hopefully hear the voice of a cherished friend, if only as a distant echo."