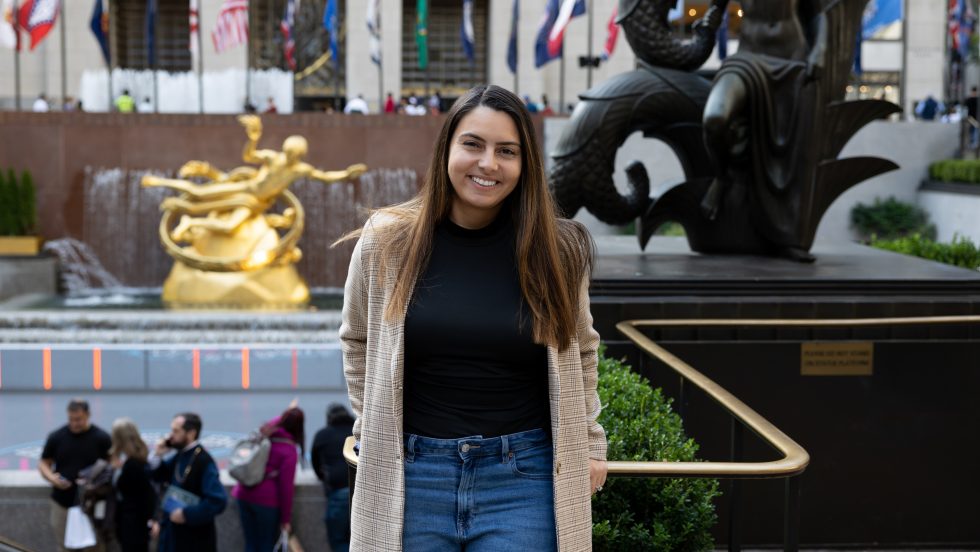 Adelphi truly values its students.
Member of Adelphi University's 10 Under 10
Political Science, College of Arts and Sciences
Attorney at Sheppard, Mullin, Richter & Hampton LLP
Meghan Lombardo was discerning when deciding where to pursue her college education. She chose Adelphi because she was impressed by the qualifications and broad areas of scholarship of the University's faculty, the warm and unpretentious students she encountered, and the exciting Honors College curriculum and community to which she was invited.
"Right from the beginning, it seemed to me that Adelphi truly values its students and provides a highest-tier education without posturing or theatrical competitiveness," said Lombardo.
Lombardo says her favorite class at Adelphi was Politics and Literature, taught by Professor Nicholas Rizopoulos, PhD. The class expanded on her lifelong love of reading and taught her to read more critically than she ever had before. She says she learned to appreciate how a skilled novelist can thoroughly capture the spirit of a moment in history, often more adeptly—and certainly more animatedly—than a textbook author.
While at Adelphi, Lombardo began her journey into philanthropic work, first with the First-Year Community Action Program, then with "alternative" break trips to Florida and Washington, D.C., and a plethora of other volunteer opportunities throughout her four years at the University. She cites these experiences as solidifying her commitment to service, which has accompanied her through every step in her career.
In 2014, Adelphi awarded Lombardo the Hugh A. Wilson Award for Social and Economic Justice, which recognizes a senior political science major for activism in the areas of social and economic justice. She was also Captain of the Adelphi University Dance Team and a member of the Omicron Delta Kappa Honor Society.
After earning a Bachelor of Arts in Political Science, magna cum laude, from Adelphi's Honor College in 2014, Lombardo took a detour and worked for several months at Walt Disney World. The following fall she enrolled at St. John's University School of Law, where she was an Intellectual Property Law Center fellow and an Articles and Notes Editor for the American Bankruptcy Institute Law Review. After completing her Juris Doctor in 2018, she worked in-house for an insurance company on employment-related manners and, since October 2021, has been a corporate attorney at Sheppard, Mullin, Richter & Hampton LLP in New York City.
Lombardo shares that in addition to the excitement of working on financings, mergers and acquisitions of multi-million- and billion-dollar companies, she has enjoyed many opportunities to give back through pro bono work. Her pro bono efforts have primarily been on immigration cases, including compiling a visa application for a victim of human trafficking.
"This type of work truly brings me joy and a sense of purpose in my career," she says.
Since 2018, Lombardo has volunteered with the New York Junior League, an organization that seeks to better the lives of women and children in the metropolitan area through a variety of community outreach programs. She has also volunteered with St. Jude's Children's Research Hospital and is on the Young Professionals Board of the Crohn's & Colitis Foundation.
Lombardo's advice for current students: Try everything. Apply for everything. Read and write everything and leave no room for regret.
"The biggest obstacle in your path is self-doubt," she says. "Adelphi alumni prove every day that you do not need an Ivy League degree to be great and to do great things. Schools like Adelphi, which include all and offer amazing opportunities, are an excellent launching point for doing good in our world."