Free Forum on Medical Cannabis for Cancer Patients


News from the Adelphi NY Statewide Breast Cancer Program
May 1, 2019
Contact: Lyn Dobrin, 516-997-8545
Free Forum on Medical Cannabis for Cancer Patients
The Adelphi NY Statewide Breast Cancer Program is offering a free forum, The Benefits of Medical Cannabis for Cancer Patients forum on Tuesday, May 28, from 6 to 8 pm at Adelphi University's Alumni House, 154 Cambridge Avenue, Garden City. Speaking is Dr. Diana Martins-Welch, a board-certified palliative medicine physician and medical cannabis clinician. She will discuss the potential medical benefits of cannabis and the basis for how cannabis works in the human body via the endocannabinoid system. Dr. Martins-Welch is an expert on the NY Medical Cannabis program and will discuss how one qualifies for the program and can get registered. There will be a Q&A to address any questions people may have.
This forum is free and open to the public. Seating is limited and reservations are required. To register, call 516-8778-4325 or email: breastcancerhotline@adelphi.edu
The forum can be watched live at www.facebook.com/adelphibreastcancerhotline  from 6 to 8 pm on the 28th or on YouTube the day after at www.youtube.com/AUBreastCancer.
The Junior Coalition of the Manhasset Women's Coalition Against Breast Cancer and Sientra FULL CIRCLE sponsor the 2019 educational forums.
Photo of Dr. Diana Martins-Welch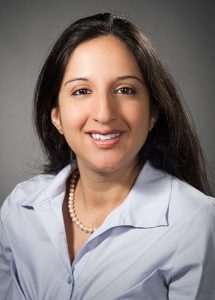 ---
For further information, please contact:
Todd Wilson
Strategic Communications Director 
p – 516.237.8634
e – twilson@adelphi.edu