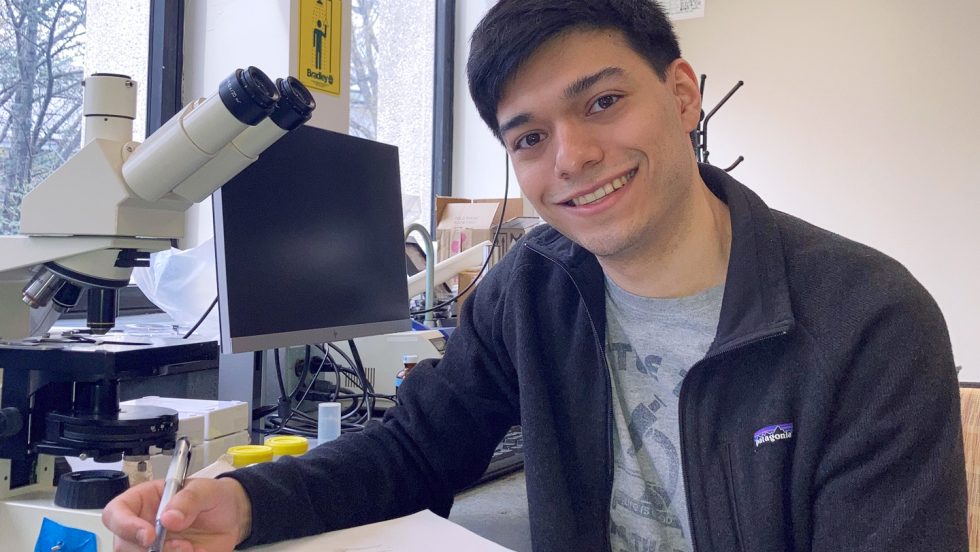 There's a certain surge of hopefulness that can accompany news of scientific advances, a sense that doomsday might be averted. We want to believe that disease and environmental devastation can be sidestepped, and that science will take us there.
Matthew Cal '20, MS '21, is working on a process using darkling beetle larvae (Tenebrio molitor) to break down plastics into biodegradable components. He's also working on giving people that surge of hopefulness.
"That optimistic feeling is exactly what we want to be able to create, however the technological scalability that would be required is not yet there," he said. "It's all great in theory but we're not yet there to recycle gigatons of plastic."
Cal's interest in polymers being processed by larvae through natural, biological processes was sparked when he was an undergraduate. He heard about research coming out of China showing the ability for mealworm to break down and mineralize polymers, a process that had only previously been demonstrated using bacterial cultures. But Cal's concern was, in a sense, the well-being of the larvae, that is, can they continue to ingest plastic or would it cause them harm, thus limiting their productivity?
Working with his thesis adviser, biology professor Matthias Foellmer, PhD, Cal put the larvae through what he calls "locomotive fitness tests" after their diet treatments. Different groups of larvae were fed wheat bran, polystyrene, a combination of the two or nothing. The group that was fed the combination diet was shown to have an increased rate of plastic consumption over the 60-day period, compared to the plastic-only group. More importantly, there was no significant decrease in physical performance or survivorship, giving hope for eventual practical applications of the process.
A sustained interest in sustainability
While Cal's focus was set as an undergraduate, he was proactive in continuing the work even after getting his diploma.
"Matt had approached me, inquiring whether he could follow through with the mealworm study as his MS thesis in environmental science," Dr. Foellmer said. "He had originally designed this study for the behavioral ecology course he took with me in Spring 2020. In this course, students design and execute independent projects in small groups, but Matt took the lead and it was definitely his brainchild. However, COVID came upon us, and no behavioral projects could be run in person, and everybody got really depressed. I was very impressed with his study idea, and was certainly very happy that he came back to the table to finish it, all by his own initiative."
Cal and Dr. Foellmer are now working to establish a polystyrene mealworm bioremediation system on campus that would showcase the novel solutions to plastic waste.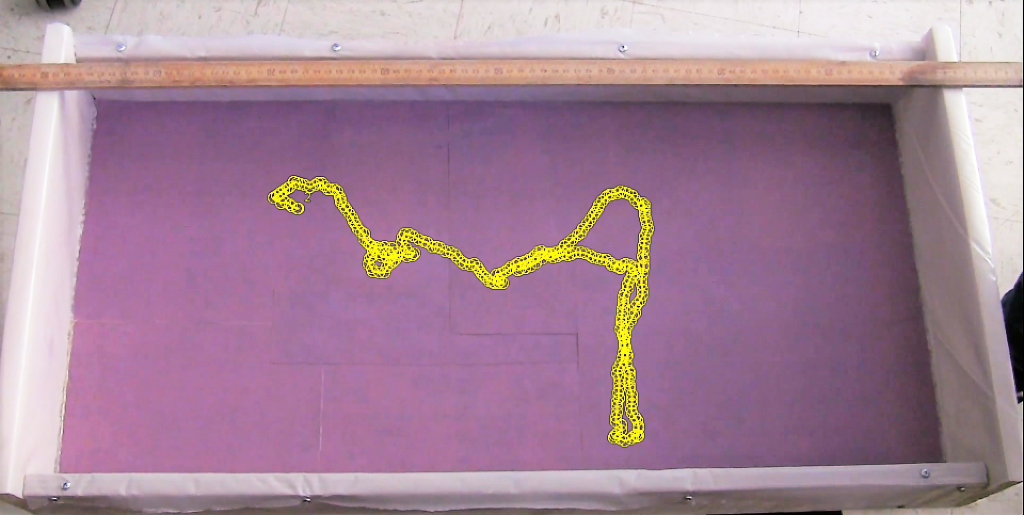 "The decomposition station will at first be educational, demonstrating a less-well-known way to biodegrade plastics," Dr. Foellmer said. "We might eventually be able to build something that can actually take care of all of the Styrofoam on campus, which will continue to be a trash problem for years to come, given that it is still widely used and not banned for packing sensitive materials, especially those which require thermal insulation."
Cal grew up next door to Adelphi's Garden City campus in Floral Park and his parents met as students at Adelphi. His father, Charles Cal '95, MS '01, MBA '03, is now a clinical assistant professor in the College of Nursing and Public Health and his mother, Stephanie (Tita) Cal '95 works as a critical care registered nurse at Northwell Health Long Island Jewish Medical Center. He completed his master's degree in May 2021, and is currently preparing his thesis for publication while working at Long Island Jewish Medical Center as a unit service assistant and planning to further his education with an eye on environmental science or medical research.
And in the meantime, he hopes to generate interest in polymer-eating mealworms.
"While most individuals may not be interested in making their own biodegradation systems for plastics, I hope these collective scientific investigations inspire them to at the very least think about recycling for Earth Day," Cal said. "I'm just trying to get individuals excited that this kind of [technology] is accessible."