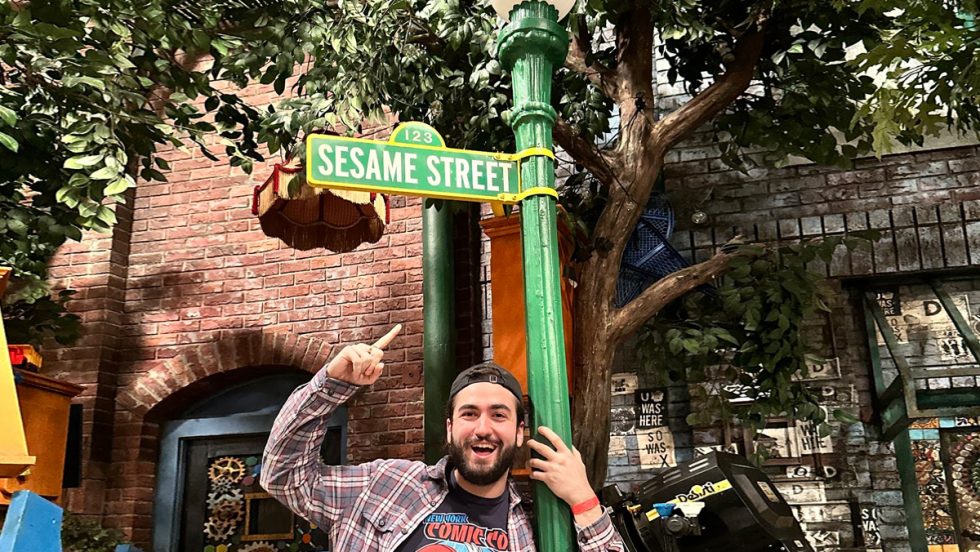 How do you get to Sesame Street? Design your own major in puppetry and take it to your dream career in Broadway's Winnie the Pooh, on Sesame Workshop—and even on a Super Bowl commercial featuring Cookie Monster.
In 2018, Sebastiano Ricci '20 started a self-designed interdisciplinary major focusing on puppetry arts. He now has a hand in, literally, some of the best-known puppet characters in the world, working with Sesame Workshop and others in the entertainment world.
He's been onstage in New York City and Chicago bringing to life characters and puppets from Disney's Winnie the Pooh, helped in the performance of major and minor characters on Sesame Street, and in a Super Bowl ad, and—one of his personal favorite milestones—performed on Sesame Street's float in the Macy's Thanksgiving Day parade.
"It's hard to put into words how much it meant to me—going 40 blocks through the heart of New York City, peeking out the window to see thousands and thousands of people, shouting out our characters' names," Ricci said. "That was the largest group I've performed for to date and, of course, there's a huge television audience as well. It's something I've wanted to do since I was a kid."
Ricci has single-mindedly made his dream of a career in the industry come closer to reality, first building puppets at his family's home in Franklin Square, New York, starting a YouTube channel and Instagram account featuring his work, and networking in the professional world. He used his years at Adelphi to explore his interests, hone skills and be ready for the next steps.
A Puppeteer's Dream, Advanced at Adelphi
Ricci credits many in the Adelphi family for supporting him along the way: in particular, John McDermott, associate professor of theater; John Drew, associate professor of communications; and Christopher Saucedo, professor of art and art history.
"They were very supportive, taking me under their wing, showing me their knowledge and how I could incorporate that into what I want to do," Ricci said. "For example, I learned about art and sculpture with Professor Saucedo and understood how I could incorporate that into my work building puppets. With professors McDermott and Drew, I saw how puppets can work on the stage and in film and TV."
His advice to students? "I highly recommend interdisciplinary study—and if it makes sense, design your own major."
Ricci was also supported by Department of Communications technical director John Furtado in scheduling his studies—he double majored in puppet arts (self-designed) and digital media production—and Cory Poccia '04, an adjunct faculty member in communications and founder of Mainstream Entertainment Group, who gave Ricci work as a film editor while he was getting started in the world of puppetry. "It was a great experience," Ricci said. "Much-needed financial support, but he was so understanding and told me up front that the work shouldn't stand in the way of any puppetry jobs that come along."
A major break came when Ricci got a gig with Rockefeller Productions in February 2021, initially as a puppet builder. He then auditioned and was cast in a new stage production of Winnie the Pooh.
"I was a little hesitant to audition because, believe it or not, I had stage fright! "he recalled." I built some of the puppets used in the show, performed as Tigger and Eeyore, which was a blast. And I was a puppet wrangler, cleaning and taking care of the puppets and repaired them if anything was broken. And then I became the puppet captain, whose job it is to teach puppetry to the other cast members."
The show ran off-Broadway in New York and then had a run in Chicago and another back in New York. As it was ending, Ricci got an invitation from the lead Muppet performers with Sesame Workshop to participate in its mentorship program. "Among other things, we get to perform small parts on the show. Basically, they're training the next generation of puppeteers for Sesame Street, and I'm honored to be part of that group of very talented folks."
Pulling a Few Strings—and Working on a Super Bowl Ad
A native Long Islander who now lives in Manhattan, Ricci is also working at Swedish Cottage Marionette Theatre, located on the west side of Central Park. He discovered a love for marionette puppetry, different from what's seen on Sesame Street or in shows such as Winnie the Pooh. "We're 10 feet up in the air working the puppets below." The group is staging an adaptation of Sleeping Beauty called Wake Up, Daisy through June.
At Sesame Workshop, Ricci is doing background work, assisting performers—for example, being a right hand for a puppet, as some take more than one person—playing minor characters in the background, taking on small roles—a talking banana, a dog and a little robin on a spinoff show on HBO Max called My Sesame Street Friends. He's also been a background singer on Sesame Street and worked on a PBS Kids show called Donkey Hodie, a spinoff of Mister Rogers' Neighborhood.
The work also got him a last-minute gig helping with the appearance of Cookie Monster in a Super Bowl ad, "Snackin' with the Stars," that also featured, among others, Sylvester Stallone, Kate Hudson, Liam Neeson and Jay Leno.
"It was super cool," Ricci deadpanned.