"When we were figuring out how we would pay, my mom said if I could get help with scholarships and grants, she could pay the rest so I could come here."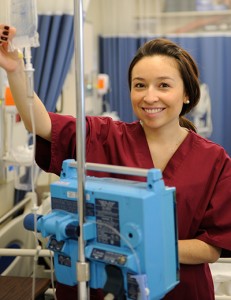 "This support has made a tremendous difference. When we were figuring out how we would pay, my mom said if I could get help with scholarships and grants, she could pay the rest so I could come here." —Marylen Leon
Born in Colombia, Marylen Leon and her family moved to the United States, driven by her mother's desire to ensure her daughters received top notch educations. Ms. Leon was nine when she and her family settled in eastern Long Island. Wary of the fact that her new home was nothing like the place where she was born and raised, Ms. Leon resisted acclimating at first. "I didn't know the language. I didn't want to learn the language," she said.
Her mother encouraged her. Ms. Leon began the third grade in ESL classes. Just three years later she took a proficiency exam, received a good score, and entered [regular classes] with the rest of her classmates.
During her high school years, she worked at the local grocery store in the afternoons and evenings. When it came time to think about college, she already knew that she wanted to go to a school close to home and her family. When she and her mom visited Adelphi, they both liked the University. As Ms. Leon learned more about Adelphi's nursing program—nursing had always been a discipline she was interested in studying—she was sure it was the school for her. The summer before Adelphi, she volunteered at [Eastern Long Island Hospital] in Greenport, New York to immerse herself in the field.
The financial support Ms. Leon was offered impacted her ability to attend Adelphi. "My mom and dad divorced two years ago," she said. "My mom said if she couldn't afford tuition, I wasn't going to go there. She was not going to let me take out several loans and be in debt as soon as I graduated college."
"I've gotten a lot of help," says Ms. Leon, who is the recipient of the Long Island Panhellenic Scholarship, institutional and federal grants, and other forms of assistance. "This support has made a tremendous difference. When we were figuring out how we would pay, my mom said if I could get help with scholarships and grants, she could pay the rest so I could come here."
Throughout the week, Ms. Leon is focused on her academics; going to class, doing homework, and studying for exams. A resident student, she makes a two hour drive home every weekend to work and see her family. She has found a balance between her studies and work, earning herself a spot on the Dean's List.
A sophomore currently taking informatics, nutrition and pathophysiology among other courses, she is grateful for the education she is receiving. "I'm doing something I didn't always think I'd get to do," she said. "We came to America when my mom was a junior in college in Colombia. She didn't get to finish her degree, but she came here so my sister and I could."
"Education means everything to her," Ms. Leon said of her mother, who has clearly instilled her own passion in her daughters. Ms. Leon's sister, a biology major, is currently doing research at C.W. Post. Ms. Leon, a nursing major who will be starting her clinical experience in fall 2013, already has aspirations to earn her master's degree after she receives her nursing degree from Adelphi.
"When I was a senior in high school I'd think, I don't know what I'm going to do or where I'm going to go," she said. "But now that I'm here at Adelphi I'm so motivated…I'm taking nursing classes…my dream is becoming a reality."
"I love being at Adelphi," said Ms. Leon, whose mother is happy to have her at the University too. "My mother says, 'whatever I have to do I'll do for you to finish here…' I'm really thankful to [get a scholarship and aid]. Any help I can get helps my mom."
Published March 2013
---
For further information, please contact:
Todd Wilson
Strategic Communications Director 
p – 516.237.8634
e – twilson@adelphi.edu