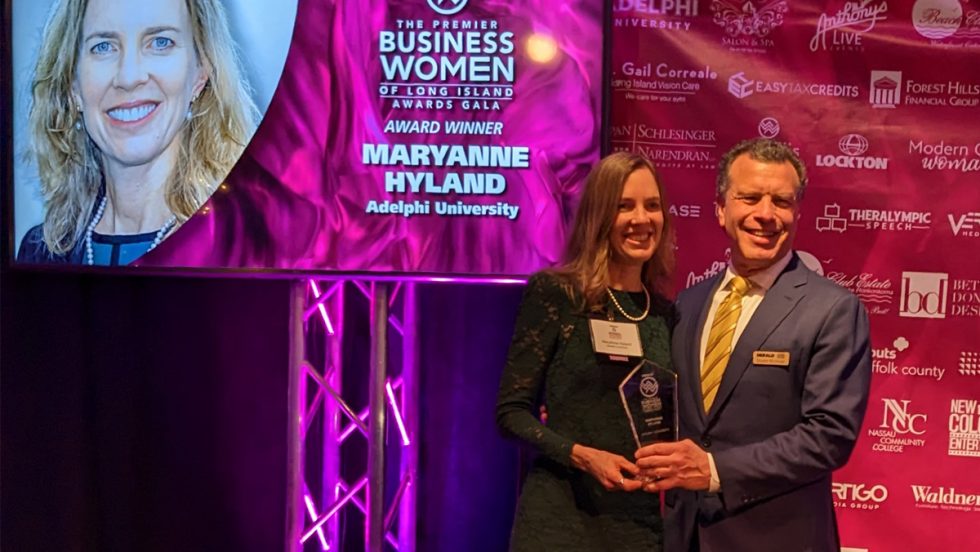 MaryAnne Hyland, PhD, dean of the Adelphi University Robert B. Willumstad School of Business, has been named a Premier Business Woman of Long Island by Herald Community Newspapers and RichnerLIVE. The annual award recognizes women for excellence in various fields.
Dr. Hyland had already been part of the Adelphi community for more than 20 years when she was named dean of the School of Business last year. She has served as a professor, faculty adviser, associate dean and leader of many committees and task forces. Her academic research focuses on issues related to balancing work and other life demands, with emphasis on flexible work arrangements, and it is that spirit of collaboration and finding balance that she brings to the school.
Even before stepping up to the dean's chair, Dr. Hyland was instrumental in building on the school's already strong reputation for professional development in an academic setting. She oversaw the Willumstad Winning Edge cocurricular initiative and the Willumstad Leadership Scholars Program. Both programs provide career-readiness opportunities throughout the undergraduate business experience. Such streamlined programs and individualized instruction from business leaders and scholars make Willumstad graduates career ready and competitive.
Dr. Hyland also oversaw the creation of a Manhattan-based global immersion business course and led a curriculum review task force that resulted in a new undergraduate specialization in business analytics. She led the development and implementation of three-year tracks for each undergraduate business degree program to reduce the cost and time for students to begin their careers or graduate studies.
Under Dr. Hyland, the School has introduced advanced graduate certificate programs in business analytics, digital marketing and marketing analytics, with flexible scheduling that allows mid-career students to continue working full time. New programs have also been developed and introduced to reflect the changing workplace. She also remains a voice of experience outside the school.
"I would like to thank my amazing team at the Willumstad School of Business for their support," Dr. Hyland said. "We will continue to work on exciting initiatives focused on personalized opportunities and support for our students that help them develop their careers."
The award was presented at a ceremony on March 22 at the Heritage Club at Bethpage.