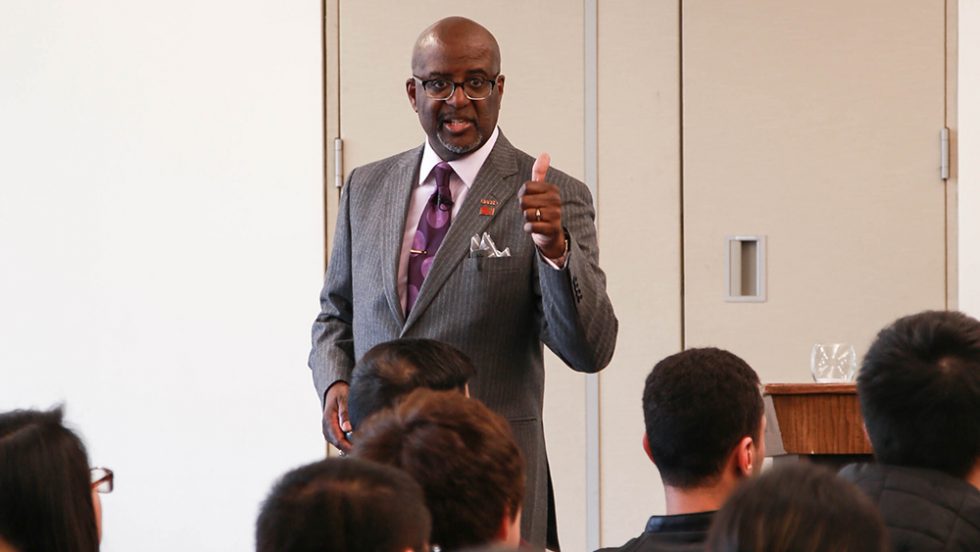 Marc S. Strachan '81 found his career path at Adelphi and is committed to helping today's and tomorrow's students do the same.
When Marc S. Strachan '81 arrived at Adelphi as a first-year student four decades ago, he knew he wanted to become successful, he said. But in what field? He considered law because of his gift for public speaking and analytical skills, yet initially declared a major in accounting because he was advised by family members that people always needed accountants. But he found accounting wasn't the right fit.
As a sophomore, he took a marketing elective and joined the Marketing and Advertising Club led by Professor Gregory Gutman. "I secured a 10-week internship at a marketing company in Manhattan and, from there, I knew then exactly what I wanted to be," said Strachan, who earned a bachelor's degree in business with a concentration in marketing.
He went on to become the success he'd aimed to be at many corporations. Most recently, he served as executive vice president and chief client officer at Publicis, a global advertising and public relations company. During his three decades of marketing in the beverage industry, highlights include working with rapper Sean Combs to significantly increase sales of Cîroc vodka and also boosted sales of Tanqueray gin. Strachan is now the chairman of ADCOLOR, a marketing and advertising organization that promotes diversity in advertising, marketing, media and technology.
A giving mentor and Brooklyn native, Strachan is quick to boost his alma mater as well. He urges students to get involved in campus activities and take advantage of Adelphi's proximity to New York City.
"Having access to high-end, fast-paced Fortune 500 companies just a half-hour away by train is a tremendous advantage," he said. Having served as president of the Black Student Union and as a campus leader of Alpha Phi Alpha, the country's largest African American fraternity, he noted the importance of getting involved in campus activities. "The leadership training and relationship-building skills that I received were invaluable," he said. "If you show the initiative, Adelphi will give you the tools and the opportunities to succeed."
Not Just One, but Four Scholarships
In 2017, Marc Strachan '81—now a member of the Adelphi University Board of Trustees—raised the funds to create four scholarships for students. The University will match the annual payout of the endowment dollar for dollar in perpetuity.
The Helen Holmes Taylor '49 Nursing Scholarship, named for the first black woman to attend Adelphi.
The Hidden Figures Scholarship for Excellence in Math and Science is in recognition of women of color whose skills helped NASA to excel in the space race, as immortalized in the 2016 film Hidden Figures.
The W.E.B. Du Bois Scholarship supports students who minor in African, Black and Caribbean Studies.
The Frances R. "Fanny Mae" Strachan Scholarship, named for Strachan's late mother, is for first-year students with significant financial need who are dedicated to activism or community involvement.