Marissa Carozza is part of the IT project management team.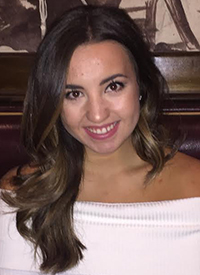 The staff of the Office of Information Technology would like to congratulate
Marissa Carozza
Student Worker of the Month for January 2017
Marissa started working in the Office of Information Technology in February 2015 as part of the IT Inventory team. She is now Assistant to the IT Project Manager, providing support of IT projects from initiation to close. Part of the class of 2018, she is an Accounting major in the Willumstad School of Business and member of Adelphi's Accounting Society. She is pursuing a job at a "Big 4" accounting firm after graduation.
Here are some of the comments we received from IT staff members and other student workers who nominated her:
"Marissa is a very organized, detailed, professional self-starter, who helps out in any way she can.  She is able to follow complex directions in a thorough and detailed manner and also able to work independently without close supervision when it is was appropriate. Marissa is extremely organized and is able to balance multiple projects at once.  She also has strong verbal and written communication skills which allow her to relay information in a clear and coherent manner."
"Marissa has made tremendous strides in her understanding and execution of PM practices. She is diligent in completing her work and tackles any challenges without reservations. Her detailed and organized nature makes her an essential member of our PM team. In this month alone, she has spearheaded the redesign of our portfolio in Smartsheet, streamlining data collection and improving reporting visuals.."
---
About IT's Employee of the Month Nominations
It is important to demonstrate our appreciation for the contributions of our student workers to their teams, to the Office of Information Technology, and to Adelphi University as a whole. At the end of each month, we will honor one student worker who has demonstrated commitment, leadership, and initiative in their position. The recipient will be presented with a certificate and gift, as well as a featured spot on our IT website.
All IT employees (including student workers) are encouraged to submit nominations for their choice for Student Worker of the Month. Your nominee should display qualities deserving of recognition.
Please submit all nominations through the Student Worker of the Month Nomination Form.
---
For further information, please contact:
Todd Wilson
Strategic Communications Director 
p – 516.237.8634
e – twilson@adelphi.edu