I realized how important it was to me to have a job where I was using my skills and abilities to make a difference in the lives of children....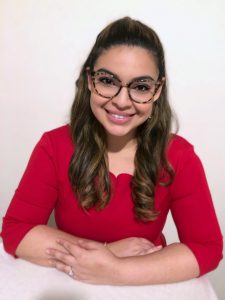 Member of Adelphi University's 10 Under 10
Lower school Spanish immersion teacher, Avenues: The World School
Maria Lopez '13 knows firsthand how one decision can positively change the trajectory of your future. And that it all starts with embracing your talents and recognizing what inspires you.
For Lopez, it began with the decision to transfer to Adelphi. Unhappy at her own college, Lopez liked what she saw on the Garden City campus. "I scheduled an audition [with Adelphi's music department] and before I knew it I was packing my bags and moving into Linen Hall."
Transferring to Adelphi was not Lopez's only pivot. Although she had enrolled as a music major with aspirations of a career in vocal performance, her job at America Reads/America Counts uncovered her passion for helping children. After graduation, Lopez accepted a position at the Boys' Club of New York, rising to the role of arts director, while simultaneously earning her masters degree in child advocacy and policy.
Today, Lopez is a second grade Spanish teacher at Avenues: The World School in New York City. An international school with campuses on three continents, the institution is an immersion language school where students spend half of their day learning a second language.
Along the way to realizing her passion, Lopez received multiple recognitions for her leadership abilities, including the Jessica Wilt Memorial Scholarship for Arts Education, an award given by the Americans for the Arts organization to emerging arts education leaders, and recognition for her work in Vietnam with SEAMEO Retrac, a language school in Ho Chi Minh City where she developed a class in English acquisition through musical theatre. Today, when she is not teaching, you will find Lopez working as an executive function coach for Beyond Booksmart, supporting students in the areas of time management and attention, and as a lead volunteer at New York Miss Amazing Organization, which is dedicated to empowering girls and young women with disabilities.
Lopez is not done yet. Her next aspiration is to obtain her doctorate in education and embrace a leadership position in schools so that she can drive innovation in education. She credits Dr. Diltz and her other Adelphi professors for fostering those first steps toward her vision and she encourages current students to follow their passions.
Taking on different leadership positions at Adelphi made me realize that more than anything, I enjoyed positions that allowed me to give back to my community….Adelphi helped me discover who I was, and what kind of legacy I wanted to leave.