Marc S. Strachan, vice president of corporate relations and constituent affairs at Diageo North America, is giving back to the Adelphi community with a scholarship to help minority students succeed.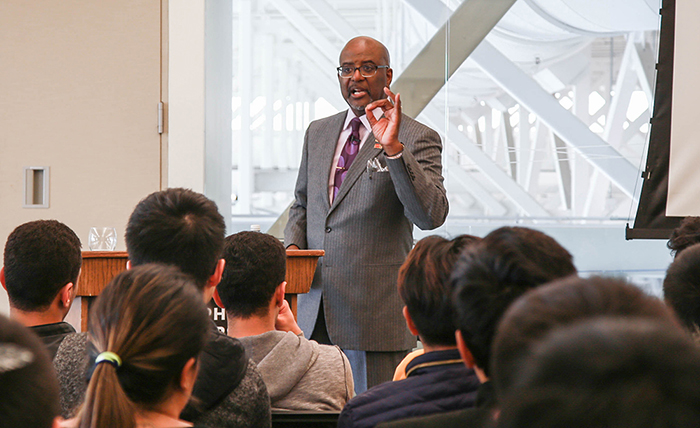 by Kurt Gottschalk
Marc S. Strachan '81 believes in giving back and giving big.
Now the vice president of corporate relations and constituent affairs at Diageo North America—a global leader in beverage alcohol production and distribution—Strachan has long served as a mentor for students currently enrolled at his alma mater. Now he's upped his game with the announcement of a scholarship for incoming and currently enrolled minority students.
"Adelphi is important to me because it is really where I got my start," he said. "Adelphi grounded me in a couple of things. It gave me an environment that allowed me to have the freedom to succeed, to try a few things, to learn, to grow, to evolve, to really grow up. The people were so wonderful and the professors were so engaging. It allowed me to develop my inner confidence. It allowed my self-assuredness to come out."
The youngest of six children born to Bahamian parents, Strachan will be recognized at Adelphi's 17th annual President's Gala on March 18, 2017, at The Garden City Hotel. All proceeds donated on Strachan's behalf at the gala will go directly toward the scholarship. If at least $25,000 is raised, Adelphi will commit to maintaining the scholarship in perpetuity. Shorelight Education and the Adelphi University Women's Giving Circle will also be honored at the gala, along with special tributes to the 2016 Class of 10 Under 10 and the Class of 1967.
Giving back doesn't just go for your alumni. For Strachan, it's a corporate responsibility as well. On February 2, he gave a talk entitled "Global Brands and Local Responsibilities in the Lifestyle Industry" as part of the Robert B. Willumstad School of Business Hagedorn Lecture Series, in which he encouraged students to be curious and stressed that businesses need to be socially conscious.
"Your generation is dramatically critical of companies," he told the assembled undergraduate and graduate students. Calling corporate philanthropy a "reputational imperative," he explained that if a corporation isn't socially responsible, people who are  concerned about such issues will take their business elsewhere and might even organize boycotts or protests.
On the other hand, he added, "If I can win your mind and win your heart, I get your wallet."
And now his wallet, quite generously, is opening for Adelphi.
]]