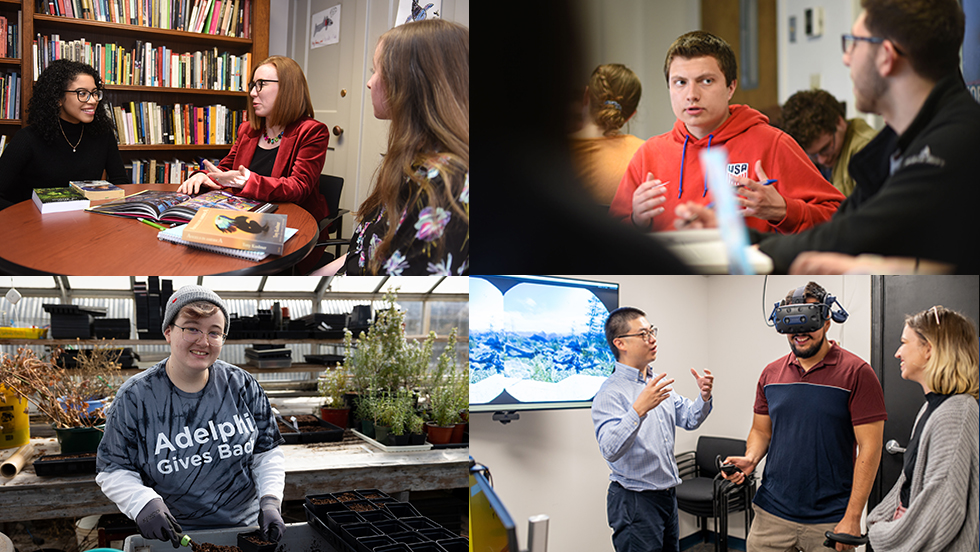 In Adelphi's first general education redesign in decades, faculty have reimagined the general education curriculum to be a pathway for self-discovery. Each step on the PATH helps students explore their strengths, engage with the world and embrace their career potential.
Adelphi's new PATH program provides a wide-ranging and immersive core curriculum that gives students an academic experience that best meets their interests.
For many, the mention of general education, or "gen ed," conjures up an image of a checklist of basic required courses that lay the foundation for a classical liberal arts education.
This approach to gen ed has been reimagined over the past several years by Adelphi faculty members into an immersive, curated core curriculum. With its official launch this fall, PATH—which stands for Preparation, Awareness, Transformation and Hands-On Learning—will be leading students on a truly transformative academic journey of self-discovery and lifetime learning.
Jacqueline Johnson, PhD, associate professor and acting chair of sociology and faculty co-chair of the General Education Committee, has led a faculty committee that has discarded old ways of thinking about gen ed to connect students more fully with their individual academic interests and goals.
"You can't stay in a bubble to be successful in today's world," she said. "We see PATH as a dynamic superpower that will give students a different perspective on what interests them—and as a celebration of something we do extremely well at Adelphi."
Charting a PATH to the Future
For Salvatore Petrilli '05, EdD, associate dean for academic operations and general education in the College of Arts and Sciences, the challenge was to create a vision for PATH that would allow the program to evolve with the times to keep student needs the top priority.
Gen ed, according to Dr. Petrilli, has a different meaning at every institution. "What did it really mean here at Adelphi?" he asked. "All aspects of PATH were already here—from a dedicated faculty to a range of innovative courses. We just needed to explain it as a journey to meet our students' academic goals and help them explore specific areas of interest. PATH is helping students become the adults they are going to be."
A Relevant Core Curriculum
PATH is purposefully designed to prepare students for success in a rapidly changing world.
"PATH is a way to help students think more creatively," Dr. Johnson explained. "It opens the door to seeing the world in a different way. Today's students have to be resilient and able to pivot in different spaces in order to be successful."
The 30-credit PATH program, which is accredited by the Middle States Commission on Higher Education, serves as a cornerstone of an Adelphi education. Like earlier gen ed programs, it still requires students to take courses in the arts, humanities, social sciences, natural sciences, and mathematics, computing and logic. It also requires students to choose an interdisciplinary First-Year Seminar from an expansive menu of options and to complete a first-year English composition course.
Other required courses are designed to help students navigate complex contemporary challenges. They include courses in both oral and written communications, two courses in quantitative reasoning and an information literacy course to help students separate legitimate sources of information from misinformation. Students must also take two courses in global learning/civic engagement.
A New Way of Thinking
Both Dr. Petrilli and Dr. Johnson insist that PATH has the potential to reduce reductionist "checkbox" strategies that students often use to satisfy curriculum requirements that are outside of their major. Faculty advisers play a crucial role in the program, guiding their advisees to chart a pathway that best meets their personal learning goals—whether by providing a more expansive view of their major or by exploring academic byways.
"Adelphi has always had a faculty-driven gen ed program," Dr. Johnson said. "Our faculty take PATH very seriously and are invested in creating high-impact, educational, engaging experiences for their students. Because many full-time faculty also serve as academic advisers, PATH provides a starting point for students to have a different kind of conversation with their advisers—one that takes a more holistic approach to their intellectual interests. It's a shift to a way of thinking about courses that helps students take advantage of opportunities as they move through their college journey."