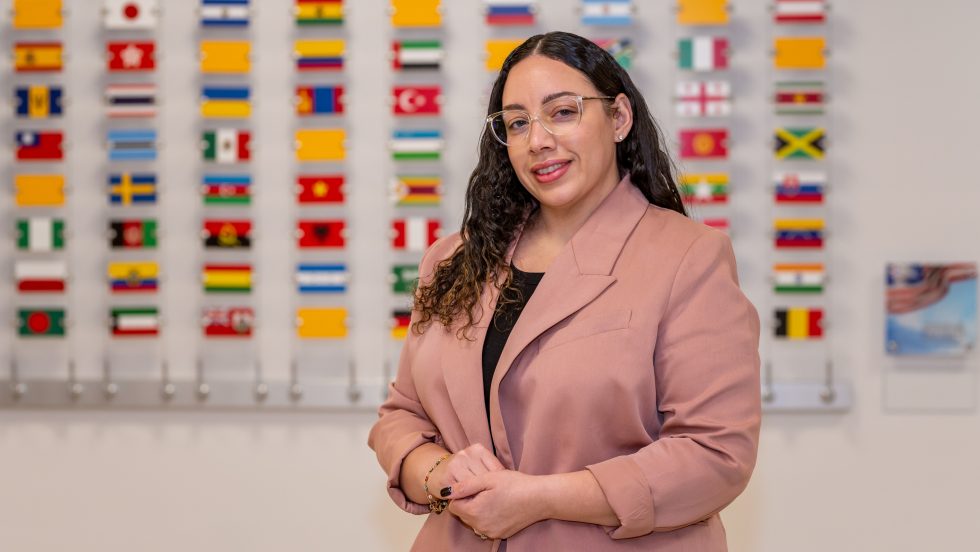 Language is an essential tool for connecting with others. As the American Speech-Language-Hearing Association (ASHA) states, effective communication is a human right that should be accessible to all. It is a right that speech-language pathologists and audiologists help people with language disorders exercise.
But is the speech, language and hearing field knowledgeable enough about second-language acquisition to effectively diagnose and treat clients who are bilingual or who do not speak Standard English? Reem Khamis, PhD, professor of communication sciences and disorders at Adelphi, thinks that it isn't, and that Black, Indigenous and people of color are often misdiagnosed and improperly treated.
Adelphi's Communication Disorders: Speech-Language Pathology program is determined to improve the field's ability to treat America's increasingly diverse population by preparing practitioners who are bilingual, culturally sensitive and attuned to language differences.
Meet one of the students in the master's program, which includes a bilingual option that requires an additional 12 credits in bilingual education along with clinical experience in schools with large multicultural populations.
Serving bilingual clients in the Hispanic community
Carla Alvarez was born and raised in the Dominican Republic before moving to New York City as a teenager. She first became interested in speech-language pathology while working with high school students on the autism spectrum as an assistant teacher in New York City.
"I didn't know if I wanted to be a teacher or a nurse, and then I saw the speech-language pathologists and became inspired," Alvarez said. "They're able to really home in on the communication aspect of each child's disorder, which I thought was unique."
Now, as a student on her way to earning an MS in Communication Disorders: Speech-Language Pathology, Alvarez is building her career serving patients in the Hispanic community.
"I hope to impact culturally diverse communities by providing equitable services for all backgrounds across socioeconomic levels," said Alvarez. "I hope to impact the Hispanic community by bringing awareness about cultural sensitivity."
She's gaining real-world experience through her externship as a student teacher. Paired with a bilingual supervisor, Alvarez is working in elementary schools on Long Island conducting evaluations of bilingual students.
"This has been the greatest experience I've received from this program," Alvarez said. "As a Spanish-speaking therapist, I am able to identify if a child has a language disorder or a language difference. Does the child speak more Spanish than English? Why is he having trouble? Is he having trouble in English or Spanish? And we're able to recognize the issue."
Alvarez has also seen firsthand the need for trained bilingual speech-language pathologists, teachers and administrators in schools.
"I think there's a lack of training, so when a student speaks in a dialect from their home, teachers and administrators might automatically think they have a speech problem," Alvarez said. "But they don't. They might just be speaking Spanglish or in an African-American dialect."
Even among Spanish-speaking students, there are many different types of dialects and backgrounds.
"We have Spaniard Spanish and American-Latin Spanish dialects," Alvarez said. "It's important to be sensitive to students' language and culture."
Meanwhile, speech-language pathologists only make up one piece of the puzzle.
"Many different professionals in the school get together and make decisions for the students, and each one has their own opinions," Alvarez said. "What kind of services does the child need? Do we have to diagnose them with a language impairment? Everyone has to be on the same page and educated about bilingualism."
As her career progresses, Alvarez looks forward to making a difference in her community and being a voice for Hispanic students.
"I definitely hope to go back to my community and help bilingual students," she said. "I hope to be that speech-language pathologist who is able to differentiate between a disorder and a language difference and impact my Latino-Spanish community."