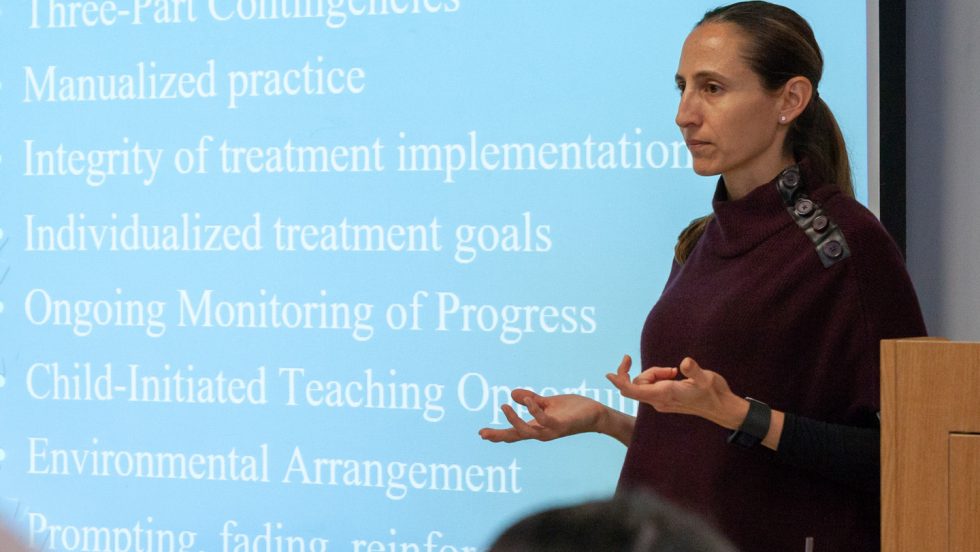 A study outlines ways to encourage student inquiry
A strong undergraduate research culture offers many benefits, from building community and advancing faculty research to providing students with a competitive advantage in graduate school or the job market. As part ofAdelphi's personalized approach to learning, the University is committed to offering undergraduate students a range of opportunities to conduct research alongside distinguished faculty, culminating in the annual Scholarship and Creative Works Conference.
Dana Battaglia, PhD, associate professor of communication sciences and disorders, shares that commitment. "I've always been passionate about engaging students in research," she said. But while participating in Adelphi's Viret FamilyFaculty Leadership Fellowship in 2018,a project-based program designed to help faculty hone their leadership skills, she noticed gaps in the University's ability to facilitate structured research opportunities. "Over time, I realized that there were no explicit communications in place about the opportunities available to Adelphi students," she explained. "The goal of my leadership project was to see if, and how, other departments were engaging students in research."
In collaboration with colleague Patrick R. Walden, PhD, of St. John's University, Dr. Battaglia published the results of her project as "Undergraduate ResearchPrograms: Challenges and Opportunities" (Perspectives on Undergraduate Research and Mentoring, 2020).1
After interviewing campus leaders about their departments' undergraduate research process, Dr. Battaglia organized her data into two overarching themes: strengths (scholarship, mentorship, community building, competitiveness of students postgraduation) and obstacles (department-wide process, faculty obligation, scale of program, resources).
One barrier repeatedly cropped up: the absence of a University-wide undergraduate research office. This decentralization meant that students were being exposed to research "at different levels of depth and breadth,"according to Dr. Battaglia. Some students undertook honors thesis projects and major-specific research tracks, while others assisted faculty with a single, isolated element of research like data organization. Across the board, students were struggling to obtain funding from their departments. "Accessing resources can be both confusing and exhausting, and deter good students from conducting great research," she noted.
Armed with these insights, Dr. Battaglia presented a series of recommendations to Adelphi's Executive Leadership. In order to maximize access, she suggested, students should be introduced to research options as early as first-year welcome events. Other ideas included contracts between students and faculty mentors to delineate expectations, a new mentorship scheme that would gradually shift the burden of mentorship from faculty to senior students, regular departmental meetings for students and faculty to celebrate their achievements, and increased funding and financial compensation for mentors. These best practices, the article notes, are vital for "developing an undergraduate research experience that is accessible, equitable and productive for both students and faculty … [resulting in] a potentially transformative experience for all stakeholders."
Now Dr. Battaglia's work is bearing fruit. Adelphi's first Office of Undergraduate Research and Creative Works is set to open in Fall 2022, which she calls a "wonderful advancement" for theUniversity. She hopes her project will serve as a model for other universities looking for a way to enhance their own research culture.
1 Battaglia, Dana, and Patrick R. Walden, "Undergraduate Research Programs: Challenges and Opportunities." Perspectives onUndergraduate Research and Mentoring, iss. 9.1, 2020.