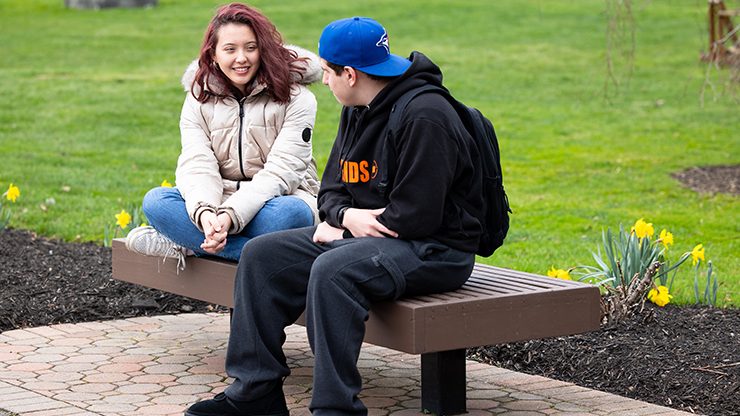 Among a national field of 1,400 programs, Bridges to Adelphi received the highest 2021–2022 honor from the National Association of Student Personnel Administrators. Our Grand Gold recognition is for outstanding inclusion of neurodiverse students in career planning, student life and hands-on academics.
If you'd told senior Nicolas Rontanini four years ago that he'd be an editor for The Delphian newspaper, in good academic standing and considering jobs in journalism, he wouldn't have believed you.
"A lot of the strides that I was able to make were because the Bridges to Adelphi program was there to assist me," said Rontanini, a communications major. "I had someone to talk to when I was feeling overwhelmed. I had a place to go to when I needed extra support."
Bridges to Adelphi has been helping neurodivergent students like Rontanini navigate the college experience with individualized academic, social and vocational support services since 2007. Most recently, the program won the Grand Gold Medal for Equity, Inclusion and Social Justice from the National Association of Student Personnel Administrators, an organization with more than 13,000 members on 1,400 campuses in 25 countries.
The award, which recognizes programs that are "innovative in supporting underserved and marginalized communities," not only signifies Bridges' success in making the college experience accessible to students on the autism spectrum; it also reflects Adelphi's overall commitment to diversity, equity and inclusion.
"It means a lot to be recognized, because equity and inclusion is something that we fight really hard for," said Stephanie Grindell, MA '16, senior associate director of the Bridges program. "In the overall conversation about diversity, sometimes neurodiversity gets pushed to the side. So we love that we were included in that conversation."
The Bridges program uses social learning theory, cognitive behavioral principles and an individualized approach to help bridge the gap between high school and college, college and the professional world, and even parents and the professors who are guiding their children.
"We collaborate with many different offices to holistically meet our students' needs because we recognize that there's no one-size-fits-all approach," said Diana Damilatis-Kull '10, MA '12, MA '14, director of the program. "As we say, if we have 105 students enrolled in the Bridges program, we have 105 different programs as a result."
Many students use the Bridges program throughout their entire college career. They can meet with learning strategists, for example, to help them prepare for assignments and develop time management skills. They can also work with social coaches to help build positive peer relationships.
"We want to foster independence, not codependency," Damilatis-Kull said. "Before you know it, you're seeing their transformation and how much they grow and develop by the time they're seniors and graduating."
Thanks to Bridges, Adelphi also became the first university to offer a sensory room for neurodivergent students. Launched in 2018 and updated in 2021, the room functions as a space to help students calm down and avoid hyperstimulation. It now includes noise-canceling headphones, a projector that displays calming shapes and colors, beanbags, and weighted balls and blankets.
Bridges also runs a Summer Launch Program for neurodivergent students making the transition from high school to Adelphi. Participants have the opportunity to take a course during the summer and begin developing an individualized plan for their academic experience.
Rontanini first got involved this way, and he's continued to use Bridges' support services to help prepare for classes outside of his comfort zone, meet new people and explore career options.
"College is a stressful time, especially now because of COVID," he said. "It's always nice to have a bit of extra support, and there's nothing wrong with asking for help. That's what the program is there for."
Now, as a staff-writer-turned-editor, Rontanini often writes about neurodivergence and the Bridges program for The Delphian.
"I've loved every minute of working with The Delphian," he said. "It's been the best opportunity I could have ever hoped for, and it's influenced where I'm looking in terms of jobs in broadcast journalism."
The Bridges team raised money on Giving Day to support its 125 students and alumni in honor of Adelphi's 125th anniversary. The funds generated are used for more vocational services, social events and tools that help students with executive functioning and organizational skills.
The Bridges to Adelphi program will also continue to expand its reach throughout the Adelphi community and local high schools.
"We want to make sure neurodiversity is being talked about and understood—beyond just Bridges," Grindell said. "Not every student at Adelphi that has a learning disability or thinks differently is a part of the Bridges program. So we want to be able to support Adelphi as a whole."