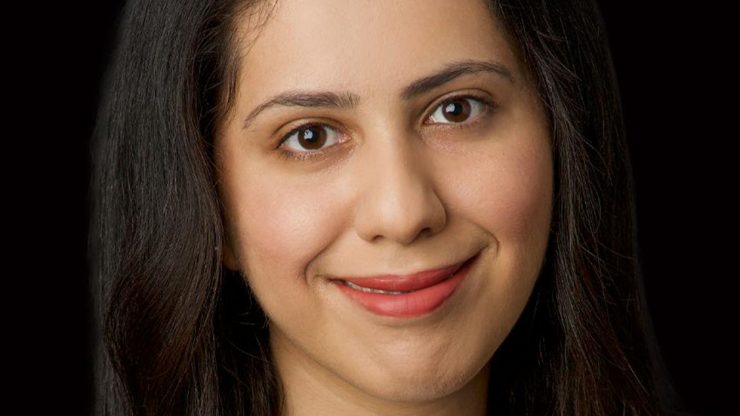 Mahnoor Misbah '14, Esq., chose Adelphi because of the Honors College, the professors and the beautiful campus.
Member of Adelphi University's 10 Under 10
College of Arts and Sciences – Political Science
Associate, Morrison Cohen LLP
"When I came in for my interview, I was amazed by the curriculum of the Honors College, the small class sizes and discussion-based classes, and the amazing opportunities the Honors College provided to attend cultural events such as the ballet and opera," Misbah said. Adelphi is a unique school where every student has the ability to be mentored. There are opportunities for everyone. Don't just attend class and go home. When you go to class, participate in class discussions. Engage with your professors. Make them your mentors. They will be very receptive to mentorship."
Another piece of advice from Misbah to Adelphi University students is to pursue extracurriculars and aspire for leadership positions within those activities. It is something that Misbah is committed to doing herself. 
"My greatest accomplishment has been handling multiple leadership positions while working full time or attending school," Misbah said. "Despite always having a busy workload, I have managed to be involved with community work, professional organizations and volunteer work."
After graduating from Adelphi with a degree in political science in 2014 and before entering law school, Misbah volunteered for two different nonprofit organizations: Girls Inc., where she served as a mentor to middle school girls in an underserved area in New York, and Women for Afghan Women, where she tutored women in English and helped them prepare for their U.S. citizenship exam.
While attending Fordham University School of Law, Misbah was a member of the Moot Court and Trial Advocacy teams, a research assistant for the Leitner Center for International Law and Justice, a member of the Fordham Urban Law Journal, and she received the Archibald Murray Public Service Award. 
After graduating from law school, she worked in the New York state court system for three years. Misbah clerked for the Hon. Lizbeth González in the New York State Supreme Court, Appellate Division, First Department. She also clerked at the trial court level for the Hon. Saliann Scarpulla in the New York State Supreme Court, Commercial Division. Prior to that role, Misbah clerked for the Hon. Arlene P. Bluth in the New York State Supreme Court, Center for Complex Litigation. 
Misbah is now a business litigation associate at Morrison Cohen LLP in New York City. Her clients, which include high-net-worth individuals, corporations, financial institutions and start-ups, turn to her for representation in matters involving contract, real estate and shareholder disputes, as well as bankruptcy-related issues in court and through alternative dispute resolution. Misbah assists clients at all stages of litigation, including at the appellate level.
Misbah holds leadership positions at two different bar associations. She is an active member of the New York State Bar Association, serving as co-chair of the State Court Counsel Committee, Commercial and Federal Litigation Section; and is the secretary of the New York City Bar Association Judiciary Committee. She also served as a speaker and panelist in several continuing legal education programs for Fordham University School of Law and the New York State Bar Association.
"Adelphi changed my life because it gave me leadership skills," Misbah explained. "It provided an environment for me in which I felt confident enough to pursue any leadership position I set out to obtain. Adelphi taught me how to become a leader, the benefits of pursuing such positions and how to maintain them. Leadership skills have opened numerous doors for me in my career and my personal life. They have helped shape me into the person I am. Much of that is owed to Adelphi."