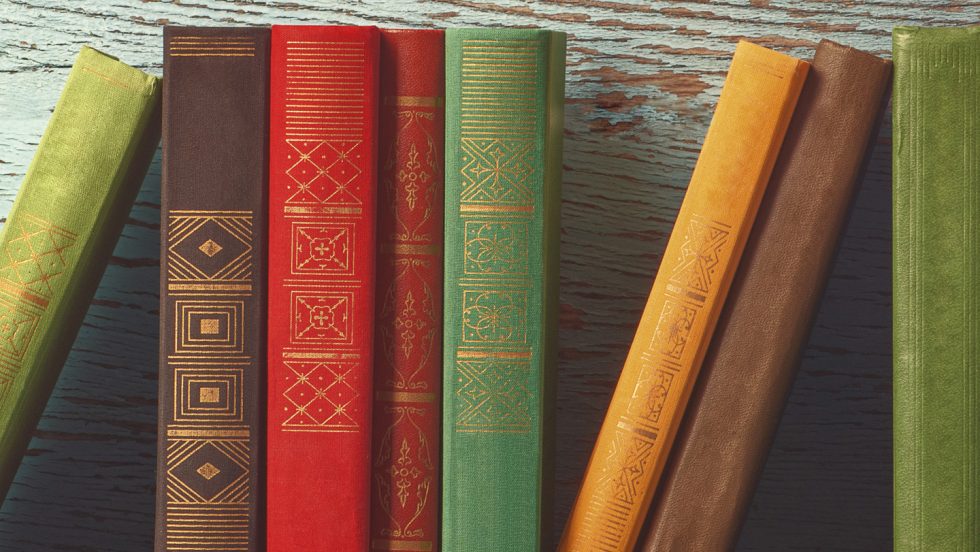 An Adelphi novelist and the creation of a new genre: "collective criticism"
The latest project from Katherine Hill, assistant professor of English, began at a bar in Brooklyn and culminated in a published volume of literary criticism, The Ferrante Letters: An Experiment in Collective Criticism (Columbia University Press, 2020). The book has earned acclaim from outlets such as Booklist, The New Republic and The New Yorker, which praised its "beguiling humanity" and "mesmerically reflexive reading."
Over drinks, Hill's friend Sarah Chihaya, PhD, assistant professor of English at Princeton University, proposed a collaborative project for the academic journal Post45. Along with Merve Emre, PhD, associate professor of English at the University of Oxford, and Jill Richards, PhD, assistant professor of English at Yale University, they would spend that summer reading and writing about the work of a single author.
Their subject was Elena Ferrante's Neapolitan novels, a literary tetralogy Hill calls "compulsively readable." The series traces the tumultuous relationship between two friends from Naples, Italy—novelist Lenù and muse Lila—as they navigate romance, family and politics. "The idea was to challenge a lot of the standard assumptions about academic criticism: that it must be done in solitude, that it has to be authoritative and impersonal, that it can't be timely, that it can't be fun," said Hill. "We were looking to create an experience halfway between the seminar table and the book club."
From June through September 2015, they emailed letters back and forth that married incisive intellectual analysis with playfully personal allusions (The Baby-Sitters Club, eating pizza and sfogliatelle in Naples, a childhood crush on Leonardo DiCaprio). As the lone novelist in the group, Hill was eager to embark on her first serious academic project. "The others all wanted to get a bit more creative with their criticism, whereas I wanted to get more rigorous with mine," she said. "Here, I felt free to assert myself as a literary critic despite not having the traditional training or style." Hill was equally compelled by the group's shared accountability and participation in a new genre they labeled "collective criticism." "I believed in them, and they believed in me, and just by writing to each other in this generous way, we were all pushing each other to get better."
What began as a "writing exercise and an exercise in new friendship" also turned out to be a useful teaching tool. Hill taught the Ferrante novels in a Spring 2019 literature class at Adelphi, employing the collective criticism methodology she and the group developed. Instead of writing traditional essays on each book, students wrote letters to one another, building on their classmates' arguments and extending arguments of their own. "The exercise helped them to see themselves as active critics, working in a community of scholars," Hill explained. "It also helped them decide when and how to incorporate personal observations into their critical work, which is something so many students want to do but lack useful models for."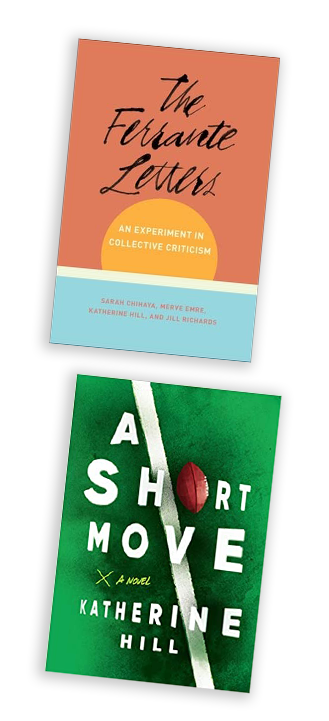 Hill's own literary endeavors recently yielded yet another triumph. Her novel A Short Move—about a character named Mitch Wilkins, a football player whose success in the NFL comes at great cost—was published by Ig in June 2020. Wilkins first appeared as a minor character in an earlier short story, where he had retired from football and entered a premature "old age" at 40. "The weirdness of that got me interested in the relative speed of life and the various conditions that affect our experience of it," Hill said.
The novel, which traces Wilkins' life and career, contains surprisingly few scenes of football. "Instead of dramatic play-by-play and hackneyed triumph, Hill gives us the more quotidian moments that come after the game," wrote Bill Roorbach in The New York Times Book Review. In doing that, he continued, Hill created "a great book for fans of men and boys, so many of them caught up in the dark world of dreams come true."
Hill agrees that A Short Move is about more than just football. Writing it while the NFL was undergoing its "concussion crisis" and journalists were focusing on the physical toll the game takes on its players, she realized that she was really tackling a different subject: "I was writing about life under capitalism."
Hill's creative writing classrooms are laboratories for discoveries like this. "When we read, write and discuss fiction together, we are all trying to solve the essential puzzles of art-making, each in our own way," she said.
---
Chihaya, Sarah, Merve Emre, Katherine Hill, and Jill Richards. The Ferrante Letters: An Experiment in Collective Criticism. Columbia University Press, 2020.
Hill, Katherine. A Short Move. Ig Publishing, 2020.