Adelphi is committed to transforming students' lives. Our U.S. News & World Report ranking as a Top Performer on Social Mobility reflects our success in meeting that goal.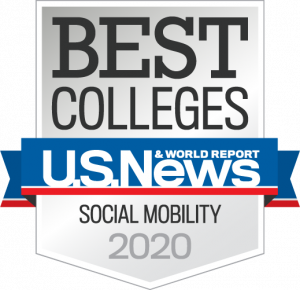 Adelphi has many goals as an educational institution, but one stands out as central to its mission. It is the University's commitment to transforming the lives of its students.
This fall, Adelphi was recognized for its success in meeting this mission when U.S. News & World Report ranked it as a Top Performer on Social Mobility, a distinction that honors the schools that enroll and graduate the largest proportion of students receiving need-based Pell Grants.
Pell recipients have a major presence at Adelphi. Last year, 32 percent of the student body—1,717 of 5,307 degree-seeking students—had the grants.
At the core of Adelphi's ranking are programs that provide the foundation for success and a path to graduation and that help ensure marginalized students have a connection to life on campus. This is done through hands-on learning programs that provide access to support they might not even know they need, as well as an atmosphere in which staff advocate for their students, said Bernadine Waller, MA '10, associate director of experiential learning for the Center for Career and Professional Development.
"It's amazing to see how people's lives have totally changed as a result of us being able to give them the experience that they need," Waller said. "I come from an under-resourced school district, and I started working in my field as early as my freshman year, so I know both firsthand and through my students the value of experiential learning programs."
Adelphi not only provides opportunities for its students—it works as their advocate. Waller and many others at the University have an open-door policy so that students can have a safe place where they can share their concerns. Jamal Wyse '14, JD, was one of those students.
"That open door meant I could stop by and say hello and develop a different kind of relationship instead of being all about business," said Wyse, who earned dual bachelors' degrees in criminal justice and sociology, and graduated from the Elisabeth Haub School of Law at Pace University in May. He's now working at the Legal Aid Society of NYC in Brooklyn.
Many students also need mentors to show them what steps to take to academic success, said Chotsani Williams West, MA '07, director of student mentoring in the Office of Academic Services and Retention.
"We know that some of the best learning happens for our students outside of the classroom," West said.
This is where the Adelphi University Mentoring Program comes in. With an emphasis on reaching first-year students who may need help adjusting to the academic and social demands of college, the program promotes leadership skills, goal setting, financial literacy, character building and career skills.
The program, which began in 2014 with 10 students and 10 mentors, is so popular that West said it's currently at capacity with 182 participants—91 mentees and 91 mentors. The program was recently cited as a model program, one of just four national winners of the 2019 Eduventures Innovation Award.
In addition, West has founded the Peer Mentoring Program in the College of Nursing and Public Health with 25 total participants, typically juniors and seniors who are paired with first-year and sophomore students. West said she is also working on a coaching model with the Robert B. Willumstad School of Business and implementing another program in the Department of Communication Sciences and Disorders under the College of Education and Health Sciences.
"The Mentoring Program really looks at the holistic experience of all students, so in addition to the one-to-one partnership that they have with the mentor, there's also a semester calendar that is produced that talks about things such as financial literacy or work-life balance," West said. "It's a really well-rounded program to meet the students where they are and really supports their success, their retention and their sense of belonging, all in one program."
Federal Work-Study programs like  Panthers With a Purpose and America Reads/America Counts also play a role in student success. Alexis Bueno '15, JD, who earned dual bachelors' degrees in criminal justice and sociology, participated in America Reads, reading to preschoolers at Adelphi's Alice Brown Early Learning Center.
"It allowed me to connect with younger kids and see the impact that we as minorities can have on people who are younger than us who are also minorities," said Bueno, who graduated from the Elisabeth Haub School of Law at Pace University in May and is now working at the Legal Aid Society of NYC in the Bronx. "The program helped me realize I wanted to keep working to encourage people who were in similar circumstances to be their best selves and be aware of their impact on their world. One of the benefits of the program is I learned how much just doing a little bit can impact others and helped shape me to become the kind of activist I wanted to be."
---
For further information, please contact:
Todd Wilson
Strategic Communications Director 
p – 516.237.8634
e – twilson@adelphi.edu