Raising Funds to Help Breast Cancer Survivors. Join the Adelphi Group for the 2020 Walk


News from the Adelphi NY Statewide Breast Cancer Program
November 18, 2019
Contact: Lyn Dobrin, 516-997-8545
Raising Funds to Help Breast Cancer Survivors
Join the Adelphi Group for the 2020 Walk
The Adelphi NY Statewide Breast Cancer Hotline & Support Program, located in Garden City, has received a grant of $25,250 from the LI2Day Walk. Each year, since the event was established in 2004, a team representing the Adelphi program participates in the walk. To date, the program has received $465,200 to help in their efforts to provide emotional support to people coping with breast cancer.
The next walk is scheduled for Sunday, May 17, 2020. This 10K walk will be held at Sunken Meadow State Park in Smithtown. There is a registration fee of $75 and each walker is encouraged to raise a minimum of $500. To participate visit: https://www.li2daywalk.org. During the registration process participants may select to join the Adelphi Team.
For information, call the Adelphi Breast Cancer Program at 800-877-8077.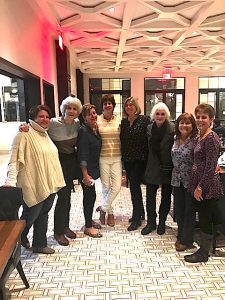 Photo Caption
Members of the Adelphi team celebrate their successful walk and fund raising: left to right: Jill Fifield, Bay Shore; Joan Beder, Old Westbury; Kathy Diamond, East Meadow; Regina Shields, North Bellmore; Carol Taraci, Levittown; Susan Shulman, Westbury; Sue Gerson-Gross, North Bellmore; Marie Grisafi. New Hyde Park  (Not in the photo: Linda Olsen, Farmingdale; Lauren Diamond, East Meadow; Sandi Kafenbaum, Great Neck; Anita Goldstein, Glen Head; Gail Ellstein, Ilene Frischer; Bayville; Faith Sterling, Great Neck).
---
For further information, please contact:
Todd Wilson
Strategic Communications Director 
p – 516.237.8634
e – twilson@adelphi.edu