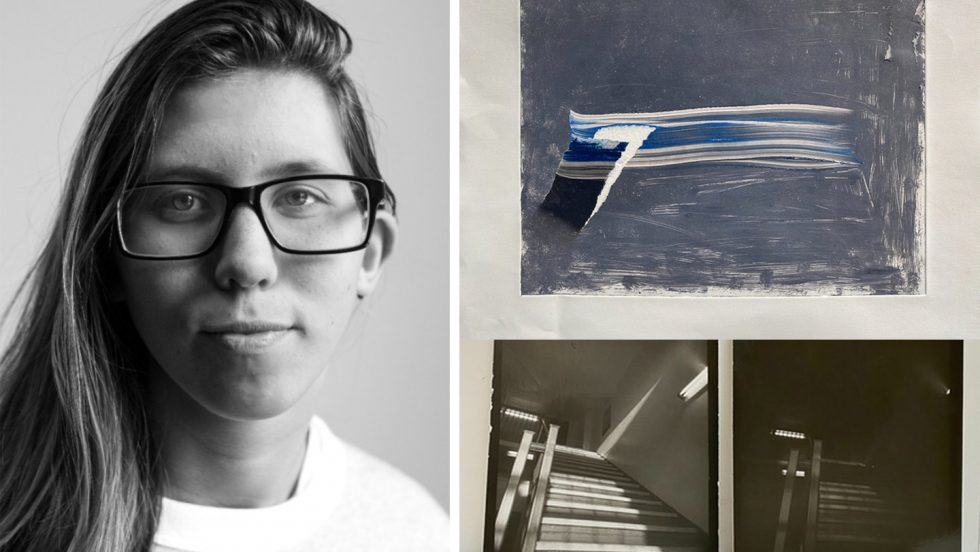 The coronavirus pandemic has changed the traditional approach to teaching and learning over the past year, presenting the opportunity to creatively adapt to the challenges. For art students like current senior Tamar Bernstein, it meant finding new ways of making art.
Bernstein, a studio art major who considers herself a printmaker, realized she needed to explore other fields of art when her classes moved online in Spring 2020. She took classes in sculpting, photography and contemporary art, among others, to help her explore various media of creating art, expand her skill set, and provide her with multiple career options.
"I had to switch from being a very tactile and physical artist to being digital for the most part," Bernstein said. "I had to start painting on canvases, ripping things up and putting things back together. I had to completely switch my mode of thinking while at home to using photography to my advantage."
A class in alternative print and alternative processes with Hannah Allen, assistant professor of art and art history, in the fall inspired Bernstein to capture images with a pinhole camera. She calls the resulting images her proudest work produced during the pandemic. "It really opened me up to a whole new way of thinking and reminded me that photography will be a part of my art."
The Art Must Go On
Bernstein recalled being in an art criticism class when she got the email urging students to vacate campus, indicating that classes were moving online. The professors in the art department were on hand to help make the transition to online learning bearable for the students.
"We had spent like three weeks in school and everything was going great," Bernstein said, but when she got that email, she knew things were about to change drastically. One of the major changes was that she would no longer be able to visit the museum in person—she would have to visit the galleries virtually.
For instance, Christopher Saucedo, professor of art and art history and Bernstein's sculpture instructor, sent out boxes with papier-mâché items, wood and clay for his students to sculpt from home. The department also gave photography students like Bernstein access to Adobe's photo editing software suite to help them work on their photography projects.
"I will say we [the art department] thrived during the pandemic," said Kellyann Monaghan, associate professor and chair of the Department of Art and Art History. "After we concluded the spring semester and did that quick pivot to online teaching, it became obvious that we could attempt to bring classes back to campus."
In Fall 2020, the department brought most of its faculty members and students back to campus for in-person learning through its use of strict social distancing and safety rules as well as varied teaching methods. A tent has also been placed over the Adele and Herbert J. Klapper Center for Fine Arts building's courtyard to afford students extra studio space to work.
"I spread out my drawing class into two different spaces," Monaghan said. "I teach the classes simultaneously by going up and down the hallway so that the students can all take advantage of as much in-person learning as possible. When students have emergency situations or situations when they had to be at home or quarantine, we adapted to that too with Zoom technology."
Artists Address Issues in Their Work
Monaghan said some timely project topics and themes have been introduced to respond to the pandemic, and many students are addressing the issues directly in their works.
"I've heard it said a number of times that after the plague, the renaissance happens," said Monaghan, referring to the bubonic plague of the mid-1300s. "I actually said to my students, let's make the renaissance happen now while the pandemic is happening."
Bernstein is thinking about the pandemic as she works on her thesis project. "I'm thinking about pandemic art and my own mental headspace," she said. "Last semester, I was working on a lot of my inner issues, about my history with my family and how I can relate that personally on my own level and get people to think about their own history, their own past issues and how we can relate to each other."
Beyond the thesis project, Bernstein is looking forward to starting her graduate studies later this year and plans to keep working on her art, as her professors have advised. "We just have to keep on going," she said, adding that "If you stop, that's it. It's pretty tough to get back. But once you get inspiration and you keep going, it's pretty easy from then on."
In spite of the challenges presented by the pandemic, Monaghan said the art department saw an increase in applications this year. The increase, she said, might have been spurred by "the evidence of our success and the faculty's dedication to teaching whenever possible in person. I'm very proud of my faculty and the students for adapting and creating no matter what, even during the pandemic."