"Significant growth can bring challenges and unique opportunities"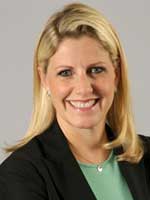 Member of Adelphi University's Profiles in Success program.
Chief Operating Officer, Latham & Watkins
Favorite Adelphi memories: 
"Time spent with the business fraternity, Delta Sigma Pi. As a commuter student, it was my connection to the campus world."
Advice for today's students: 
"Find a role that you 
sincerely
enjoy. It doesn't happen overnight, but once you do, the rest will fall into place. And don't forget to work hard!"
---
Providing Leadership in a Time of Growth
Behind LeeAnn Black's desk stands an innocuous flat-screen monitor with a small, round camera on top. "It's for video-conferencing," she says, "I prefer to communicate face-to-face with my colleagues when I can. It bridges the gap that geographic expansion creates."
Ms. Black's administrative team works in 27 offices on four continents, and their responsibilities include strategic leadership, financial management, technology integration, marketing, and general administration for one of the largest law firms in the world. With approximately 2,000 attorneys, 600 of whom are partners, and an administrative staff of 1,900, Latham & Watkins has enjoyed tremendous growth in the last decade.
"Significant growth can bring challenges and unique opportunities," she says. "Our leadership teams work hard each day to ensure that we impart our culture and share our vision so that all employees participate in our success."
For example, training provides an opportunity for ongoing enrichment and development and, at the same time, an opportunity to make the firm a "smaller place". Associates participate in firm-wide training events in their first, third, and fifth year. In addition, partners get together once or twice a year in person. "It's important not to lose sight of the importance of teamwork and really knowing your colleagues—that takes effort."
Latham & Watkins has a strong tradition of providing pro bono services to those in need. Last year alone, Latham employees logged $100 million in pro bono hours, on projects large and small, and pro bono work is not exclusive to attorneys.
"Our goal is to have all employees participate in meaningful work whether contributing internally or working directly with clients," Ms. Black explains.
Ms. Black was in the Audit group at Arthur Andersen and then moved to Latham & Watkins in 1987 to fill a management position in finance and accounting. In 1996, she implemented a firm-wide change in the accounting system, developing a global platform that would mirror the firm's geographic expansion. In 1999, she became Chief Operating Officer.
"I've been extremely fortunate to work with colleagues that I enjoy, to work in an environment filled with challenges, and to provide leadership in a dynamic and growing organization."