Adelphi's new First-Year Living-Learning Community offers a select group of outstanding students the opportunity to live and work together to build on their already impressive leadership skills.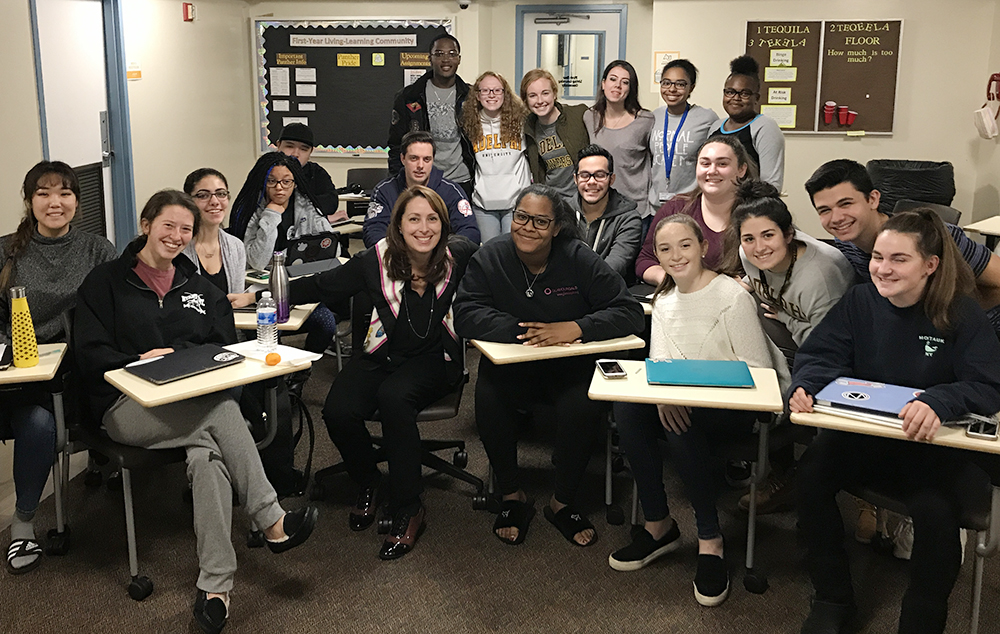 Adelphi has for many years offered students in our Honors College the opportunity to live together in a close-knit learning community. Now we're giving that chance to another group of standouts—first-year students with outstanding leadership qualities.
The First-Year Living-Learning Community, located on the first floor of Eddy Hall, is a hub for a select group of entering students who showed exceptional leadership in high school. The students live and study together, share common spaces, and benefit from the support of faculty advisers.
"The goal is to create a tight community that will produce a dynamic group of future leaders," said Adam Visconti, associate director of residential life and housing and co-creator of the program. "It brings a diverse group of students together, jump-starts networking and extends the learning experience well beyond the classroom."
More than 75 entering students applied for the 20 spaces in the community. Each had to complete an application and submit a résumé listing their leadership experiences. The strength of those experiences, along with GPA, were considered in the selection process.
"It was really an honor to be chosen," said Dorey Veron, a residence hall director who co-created the program along with Visconti. "Students had to demonstrate all-around excellence as well as a commitment to the new community."
Students in the Living-Learning Community are welcomed to the University with a first-year seminar focusing on leadership development, Thinking and Learning in the 21st Century, taught by Lisa Minicozzi, Ed.D., assistant professor in the Ruth S. Ammon School of Education. "The course stresses experiential learning and teaches students to think critically about complex, real-world problems," said Dr. Minicozzi. "The goal is to help them understand how one's mindset and values contribute to life success and ethical leadership." The seminar meets in a converted classroom in Eddy Hall, just steps from the students' residences.
The decision to form the First-Year Living-Learning Community is part of Adelphi's commitment to high-impact learning practices, which combine innovative classwork with career development programs, collaborative projects, community work and internships.
"This new program is ideal for students who want even more from their college experience," Visconti said. "It instills a strong sense of community and common purpose that will help them grow into leaders here on campus and in their careers."
---
For further information, please contact:
Todd Wilson
Strategic Communications Director 
p – 516.237.8634
e – twilson@adelphi.edu