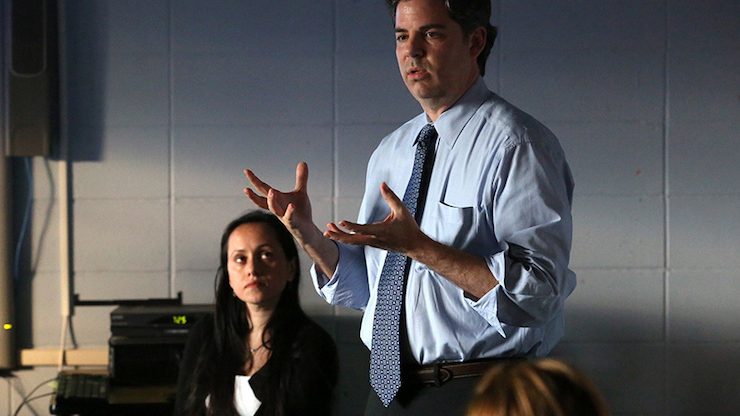 Adelphi's Institute for Adolescent Trauma Treatment and Training is helping mental health professionals nationwide recognize and treat patients who suffer from a lifetime of traumatic experiences.
The patient had a history of chronic childhood physical abuse. She was bullied in high school and sexually assaulted by a boyfriend. Given to angry outbursts, she was diagnosed with bipolar
disorder and treated with medication.
Then she began seeing Mandy Habib, Psy.D., who at the time was leading treatment development efforts in the Division of Trauma Psychiatry at Northwell Health, a hospital system in New York. Dr. Habib provided her with something potentially more powerful than a prescription: an awareness, through therapy, of the way that complex trauma affects her life, along with new strategies for coping with it.
Now the co-director of Adelphi's Institute for Adolescent Trauma Treatment and Training, Dr. Habib is helping train mental health professionals locally and nationally to recognize and treat complex trauma.
Complex trauma encompasses the exposure to multiple, chronic or recurrent traumatic experiences, and the wide-ranging and long-term impact of these experiences. With complex trauma, victims are dealing "with the effects of a traumatic life, not just a traumatic event," Dr. Habib says.
Led by Dr. Habib and co-director Victor Labruna, Ph.D., the institute has emerged as a leader in treating complex trauma cases. The institute, which was established by Adelphi's School of Social Work, works to increase awareness of complex trauma, develops models for patient assessment, and trains multidisciplinary community providers and students who work with children and families. Its influence is broad, reaching more than 6,500 mental health professionals across the country through intensive trauma trainings, presentations, workshops and webinars. It even helped develop a documentary film, Remembering Trauma, which tells the story of a young father suffering from complex trauma.
Dr. Labruna and Dr. Habib say that patients with complex trauma are routinely labeled as suffering from bipolar disorder or post-traumatic stress disorder (PTSD) because there is no formal diagnosis for complex trauma in the American Diagnostic and Statistical Manual of Mental Disorders. This is a problem because patients are treated incorrectly and often medicated for something they don't have.
Dr. Habib and Dr. Labruna have expanded the organization's already impressive reach through partnerships and collaborations with regional and national agencies. As part of its primary trauma grant, the institute is a center within the National Child Traumatic Stress Network (NCTSN), a group of more than 100 academic and community programs across the country dedicated to improving the quality of care provided to traumatized children and adolescents.
In addition to working with dozens of child welfare agencies across the region, the institute has also formed a close partnership with MercyFirst, a large service organization on Long Island, to develop assessment frameworks and treatment approaches; it also helped the organization finance a new tablet-based assessment system.
"Their support these past seven years has been instrumental in Mercy really being able to help our children heal," said Dawn Besemer, Psy.D., vice president of Behavioral Health Services at MercyFirst.
Helping provide effective treatment for victims of complex trauma is the institute's ultimate goal. Many victims never get therapy, and many who do enter programs receive quick diagnoses that fail to address the root cause of their symptoms. Dr. Habib and Dr. Labruna are looking to change that. They believe that developing a framework for complex trauma and providing the right professional training for evaluation and treatment will mean nuanced evaluations—and hope—for traumatized young adults.
---
For further information, please contact:
Todd Wilson
Strategic Communications Director 
p – 516.237.8634
e – twilson@adelphi.edu