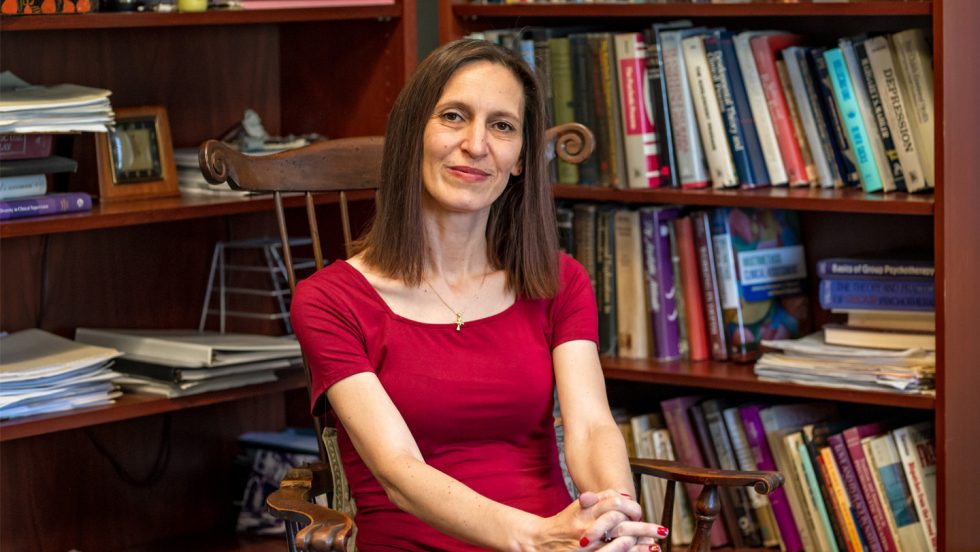 Renowned for her research on parent-child attachment, she is committed to building Derner's legacy of setting the standard in clinical training.
For Laura E. Brumariu, PhD, associate professor of psychology, overseeing her doctoral student advisees' growth, achievements and progress has always been tremendously rewarding. "At the same time," she said, "I'm thankful to all my mentees, as they taught me life lessons, shaped my mentoring style, and expanded my intellectual interests. Thus, my personal and professional horizons are continuing to evolve."
It's an evolution she looks forward to continuing as the newly appointed director of the Derner clinical psychology doctoral program. She views shepherding the success of the program's 110 students as "a great honor, a big responsibility, a big challenge and an expansion of my professional role."
Understanding Parent-Child Attachment
Dr. Brumariu's professional successes include authoring and co-authoring numerous articles in peer-reviewed journals and frequently presenting at professional conferences.
Much of her research focuses on evaluating why a secure parent-child attachment contributes to a child's healthy social and emotional development in middle childhood. But, most recently, she has expanded her scope to explore how it can also nurture the development of positive traits such as gratitude and forgiveness in early adolescence.
According to Dr. Brumariu, attachment theory suggests that more secure children who form strong emotional bonds with sensitive caregivers develop better quality friendship and are better at managing their emotions—even in stressful situations. "These abilities are key when negotiating one's place in the peer, or social, world," she explained.
Some caregivers provide supportive and sensitive care, while others, most likely through their own personal circumstances and adversities, may not always be able to provide the type of care that supports the child's needs. Attachment disorganization, linked with the most problematic parenting, could fuel anxiety and fear. "Attachment is an important part—but not the only part—of understanding why some children might develop anxiety," Dr. Brumariu added. "Attachment disorganization also signals a risk for behavioral problems."
A Focus on Forgiveness and Gratitude
A study conducted by Dr. Brumariu at her Derner Child and Adolescent Research (CARE) Lab, in collaboration with Dr. Dominic Fareri (Adelphi) and Kent State University's Kathy Kerns, PhD, is looking at factors that contribute to qualities of forgiveness and gratitude in young teens.
"A paper led by one of my doctoral students showed that children's gratitude is one mechanism explaining why more securely attached children are less depressed," she reported. "Specifically, greater parent-child security may foster early adolescents' appreciation of positive events, which in turn may relate to fewer depressive symptoms."
A Vision for Derner's Future
In the 65 years since Derner became the first university-based professional school to be accredited by the American Psychological Association, it has continued to set the standard in clinical training.
In her new role, Dr. Brumariu is committed to building on this legacy by "maintaining and expanding the doctoral program's identity as an integrative program with a significant psychoanalytic tradition."
Equally important is her stated goal to "affirm and promote the integration of psychological science, practice and commitment to social justice in clinical training, research and applied endeavors."
She explained her intention of ensuring the program's support of diversity and inclusion by noting, "Our effectiveness as clinicians, educators, citizens and scholars depends on our humility and joy in valuing and learning from everyone's experiences."