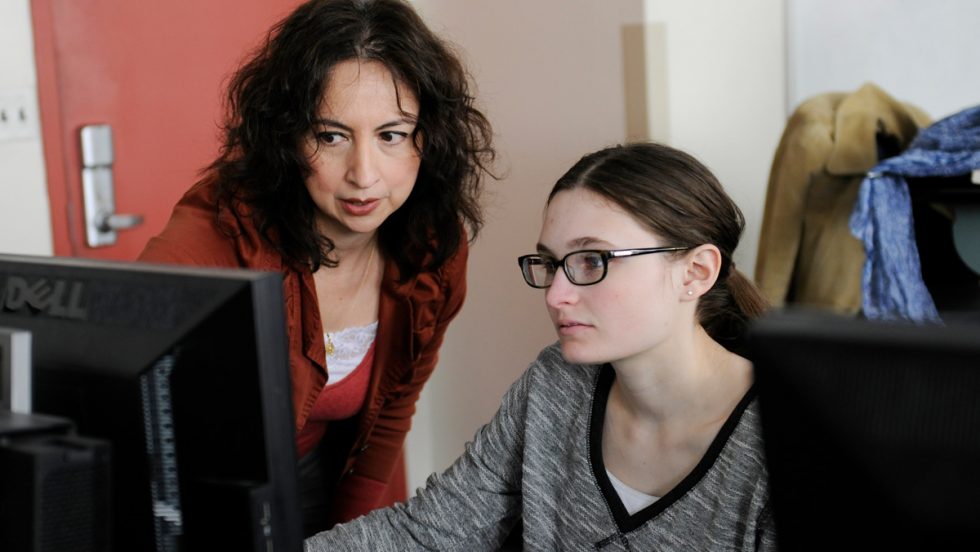 In Spring 2022, Associate Professor Jacqueline Olvera, PhD, became director of Latin American Studies. She succeeded Raysa Amador, PhD, now professor emerita of Languages, Literatures and Cultures, who became the first head of the program in the early 1970s. Dr. Olvera began planning a transition for the program, based on review of the program over two years with a group of faculty colleagues.
As of late 2022, the program is now called Latin American and Latinx Studies (LAS), reflecting more inclusion of the American experience of those with Latin American roots.
"We'll continue to study Latin America but bring in the U.S. population, the diaspora," Dr. Olvera said. "We'll remain global but also focus on the domestic side of migration, education and culture."
A New Core Course: Latinidad
In Fall 2022, the first offering of a new foundational course, Latinidad, was designed by Dr. Olvera and taught by Sandra Castro, PhD, associate dean of the College of Professional and Continuing Studies and adviser for the Latino Student Association since 2016.
"Something like 24 out of the 26 students in the course were Latinx, most of them born in the U.S., many first-generation college students, with diverse majors," said Dr. Castro. "We had faculty as guest lecturers from history, social work, art, English, philosophy, and African, Black and Caribbean Studies."
The Latinidad course is cross-disciplinary and provides historical context and nuance to the diversity of Latinx stories and voices. There will be other courses connected to the program that will help students understand the connection between Latin American and Latinx cultures, and also connections with the rest of the world.
For Spring 2023, the Latinidad course is being taught by Marcos Gonsalez, PhD, assistant professor of English, whose teaching and research areas include Latinx and queer/trans literature.
LAS program goals include creating and cultivating connections to the Latino community outside of Adelphi in the region, most particularly in Hempstead, New York, solidifying connections among Adelphi programs—such as African, Black and Caribbean Studies—and developing study abroad programs.
Exploring Identity and Celebrating Music With a February 28 Event
Dr. Olvera plans for the program to sponsor more events, the first of which is Eddie's Perejil: A Latinx Story of Confronting History and Love of Homeland on February 28.
Perejil—"parsley" in Spanish—refers to what is known as the Parsley Massacre, in which Dominican soldiers killed thousands of Haitians. Edward Paulino, PhD, author, playwright and assistant professor of history at John Jay College (CUNY), wrote and performs this production in which he plays a New York Dominican college student who reflects on this tragic event as well as the history of genocide, race, border relations, nation building and the African diaspora.
Before the February 28 event, there will be a reception for new Adelphi admitted students. There will also be performances by Micah Oelze, PhD, assistant professor of history, who is also an accomplished guitarist.
Enriching Their Academic Experiences With a Minor in Latin American and Latinx Studies
Fiorella Albines, a senior political science major, and fellow senior and criminal justice major Savannah Mendez are minoring in Latin American and Latinx Studies.
"I am proud of my Latino heritage and wanted to dive into the different topics surrounding the community," Albines said. "I found myself discussing topics that are otherwise overlooked and have been normalized within the older Latino generation. Minoring in Latin American and Latinx Studies has equipped me to have difficult conversations by expanding my knowledge about the long-standing history of the Latino community."
Mendez noted, "I wanted to take classes that would allow me to diversify my education, especially about individuals whose stories are often not represented in the curriculum of higher education. This was particularly important to me as a Latina, since I wanted to expand my knowledge about the history of my ancestors. The Latinidad course helped to provide a baseline to explore the concept of Latinidad through an interdisciplinary lens—discovering its origins, impacts, and so much more."
Program Director's Research Focuses on Latinx Women
An associate professor of sociology, Dr. Olvera is conducting research on Mexican migrants in the New York City area who make and sell tamales and atole (a warm beverage made of grain—in this case, corn). One student who was in the fall Latinidad course will be a summer research assistant for Dr. Olvera, who explained that students will have opportunities to explore their own research interests.
"I think one of the most important things Latin American and Latinx Studies will do is provide ways for students to find in coursework and research an interest in their own culture and own history," she said, adding, "There are many students who can benefit from this program, and they don't all have to be Latino students. Even taking just one course can be useful. I see us as taking well-thought-out steps to ensure the program's continued success."
See more about Latin American and Latinx Studies as well as Dr. Olvera's plans for the next several years.