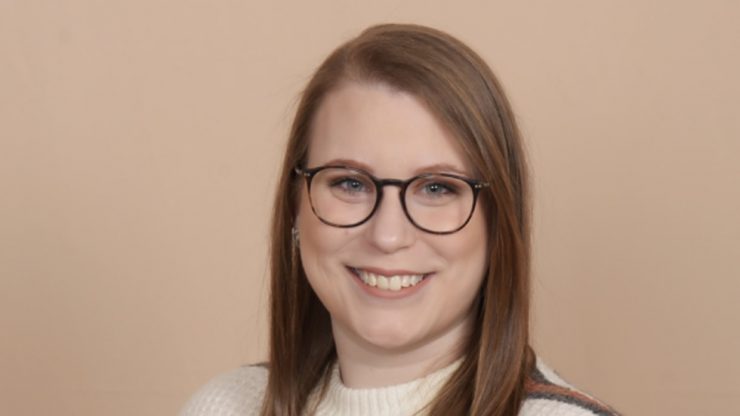 Kimberly Marquart '18's decision to attend Adelphi University stemmed from the University's personable campus environment and small class sizes. "I didn't feel like just another number because of that," Marquart explained.
Member of Adelphi University's 10 Under 10
College of Nursing and Public Health – Nursing
Hematology/Oncology Registered Nurse, Northwell Health
At Adelphi, she cultivated meaningful relationships with both professors and classmates.
Marquart holds professors Deborah Ambrosio-Mawhirter, '81, MS '95, EdD, and Loriann Gross, PhD '22, in high regard for their impactful Health Assessment and Health Assessment Lab classes. These courses not only delved into the fundamentals of nursing, but also emphasized the importance of building rapport with patients and developing a higher level of critical thinking skills.
Upon graduating from Adelphi, Marquart embarked on her nursing career, initially serving as a float pool RN at Mercy Medical Center. She rotated through various units, gaining experience in medical/surgical, telemetry, rehab, orthopedic surgery, oncology, mother-baby, bariatric surgery and step-down ICU. After one year, she transitioned to the oncology unit as a cancer care nurse in 2020, assuming a pivotal role during the COVID-19 pandemic. She later became chemotherapy/immunotherapy certified, assumed charge nurse responsibilities and precepted new graduate nurses.
Marquart accepted a position at North Shore University Hospital, where she joined the leukemia, lymphoma and bone marrow transplant unit. In this role, she serves as a charge chemotherapy nurse, trains new graduates and administers bone marrow transplants. She is also a Clinical Ladder nurse and a quality and safety champion. Marquart is currently pursuing a Doctorate of Nursing Practice with a focus on the adult gerontology acute care nurse practitioner track at Hofstra University. Beyond her professional commitments, Marquart is an engaged member of the Nassau County chapter of the Oncology Nursing Society.
Marquart actively participates in fundraising efforts to support Ukrainian soldiers in their war efforts and helps displaced Ukrainian citizens by sorting donations and essential goods. She contributes to medical supplies funding through various community events, such as making and selling pierogies.
Marquart notes that her greatest professional accomplishment was her nomination as Magnet Nurse of the Year at North Shore University Hospital during Nurses Week in May 2023. While she did not win, her nomination among a pool of 19,000 nurses is a testament to her dedication and the recognition of the tireless work that nurses perform daily.
Marquart notes that her career was profoundly influenced by Adelphi. The University played a pivotal role in opening up a multitude of career opportunities that ultimately led to her current success. It began with Marquart securing her first job as a registered nurse, which was made possible through networking with former professors from Adelphi. While pursuing a nursing degree at Adelphi, Marquart's aspiration to broaden her scope of practice and become a nurse practitioner took root. The Adelphi College of Nursing and Public Health consistently fostered an environment of encouragement for higher education, motivating her to have a higher level of thinking.
Marquart's message to new graduates and current students is, "Network with your professors and take advantage of the free student memberships to nursing societies like the American Nurses Association and the Oncology Nursing Society. Exposing yourself to as many experiences as possible will make you a stronger nurse, and you will also find your niche."