"...Coming to Adelphi was one of the best choices I've ever made."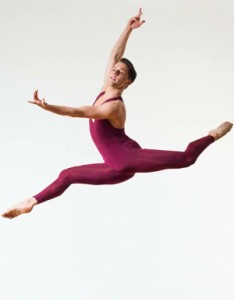 "…Coming to Adelphi was one of the best choices I've ever made." -Kenneth Murray

Kenneth Murray was five years old when he discovered his passion. "I was watching my sister take a dance class and I turned to my mom and said, 'I think I want to do this.' And I've been dancing ever since."
His high school guidance counselor recommended Adelphi based on its reputation for having a strong dance program. Murray visited campus for a tour and an audition and fell in love. "The campus is stunning and all of the professors were so welcoming," he said. "Adelphi is small enough that I know everyone in my graduating class, which is something most college students can't say. Coming to Adelphi was one of the best choices I've ever made."
Murray attributes The Department of Dance with bringing him to the next level in his art. "The ballet and modern I've taken at Adelphi have shaped me into the versatile and technical dancer I am today." Throughout his years on Adelphi's stages, he has had the opportunity to perform works by Martha Graham, Jaques Cesbron, Catherine Denisot-Lawrence, Jennifer Kreichman, and Pascal Rioul.
He had the opportunity to work with the Amy Marshall Dance Company for the fall 2012 production of Dance Adelphi. The following summer, Amy Marshall needed another dancer to perform with her company at Jacob's Pillow Dance Festival. She asked Murray, who got to rehearse and perform with them there. Soon after, she offered him a job. He has been dancing with the Amy Marshall Dance Company since 2013 and, in summer 2015, will be traveling to Poland to tour with the company.
In 2014, he was also asked to take part in numerous Fosse workshops. "I had the honor of working with Nicole Fosse, Lloyd Culbreath, Valarie Pettiford, and Dana Moore at these workshops," he said. "It was an incredible opportunity."
When reflecting on his Adelphi experience, Murray said that the scholarship support the University offered him played a significant role in his choosing the University. Murray, the recipient of the Tina Bolton Endowed Scholarship, is thankful to Trustee Jeffrey Bolton '61 and his wife Tina as both benefactors and mentors. "Tina and Jeffrey have been nothing short of amazing. I couldn't be more thankful for all that they have done for me the past two years," he said, "And I plan on keeping in contact with them after graduating."
Murray, who has been cast in every production of Dance Adelphi since his freshman year, danced in his final performance for Adelphi on May 9. "I am so thankful for everything that Adelphi has given me over the course of the last four years," said Murray, whose goal is to dance on Broadway and one day open his own dance studio where he will offer classes for children with special needs.
Published May 2015
Photo credit: Liz Hale/Lois Greenfield Workshop 2015
---
For further information, please contact:
Todd Wilson
Strategic Communications Director 
p – 516.237.8634
e – twilson@adelphi.edu