"The memories, opportunities, relationships, experience and, of course, education I received at Adelphi helped shape me into the person I am today. Adelphi will always be a part of me, and I will always be a part of it."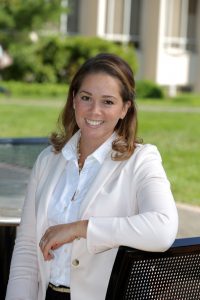 Member of Adelphi University's 10 Under 10
Senior Compensation Advisor, Latham & Watkins
Member of the Adelphi University Board of Trustees
As a senior compensation advisor at Latham & Watkins—one of the largest law firms in the world—she is the primary advisor to the European, Middle Eastern, Eastern and Central US business leaders and HR teams on compensation and reward strategy. Outside of the office, Malone also provides her expertise, perspective, and ideas to her alma mater as a member of Adelphi University's Board of Trustees.
The positions she holds today are not unlike the roles she stepped into as an undergraduate student at Adelphi. A former president of the Student Government Association, Malone was involved in many organizations on campus, actively making a difference at her University and in the lives of her classmates. "I gained incredible experience through my involvement in the Student Government Association and valued the time and wisdom imparted to me by my predecessors and advisors," she said.
Malone completed her bachelor's and master's degrees from the Robert B. Willumstad School of Business. "Two of the people who had the biggest impact on me during my time at Adelphi were Professor Dennis Payette, and former Assistant Dean Brian Rothschild," she said. "Ten years later, I often recall advice or lessons they gave me."
After graduating, she began her professional career at OpenLink Financial as a human resources associate. She was promoted to human resources business analyst, and again to senior compensation and systems analyst. In 2016, she started working for Latham & Watkins as a senior global compensation analyst, joining a team responsible for managing compensation activities for more than 2,500 staff and paralegals globally before stepping into her new role as senior compensation advisor.
Through Latham she has had the opportunity to volunteer with Read Ahead, a reading based mentoring program with elementary school kids in New York City. Her role as a member of Adelphi's Board of Trustees is a position she has held for the past three years. "Time is my most valuable resource as a full-time working mom and wife," she said. "By giving my time to the Adelphi community through my role on the Board, I am making the most significant contribution I can to impact our community."
In addition to her work on the Board, she has also shared her knowledge and experiences as a guest speaker at the University's Women's Leadership Conference, a leadership training and professional development conference Adelphi hosts to recognize the careers of graduates and friends while providing the opportunity for those involved to create meaningful professional connections.
Malone is proud of all she has achieved professionally and personally, but she says her greatest accomplishment is starting a family with her husband, Joe, and being a mom to their son, Joseph.