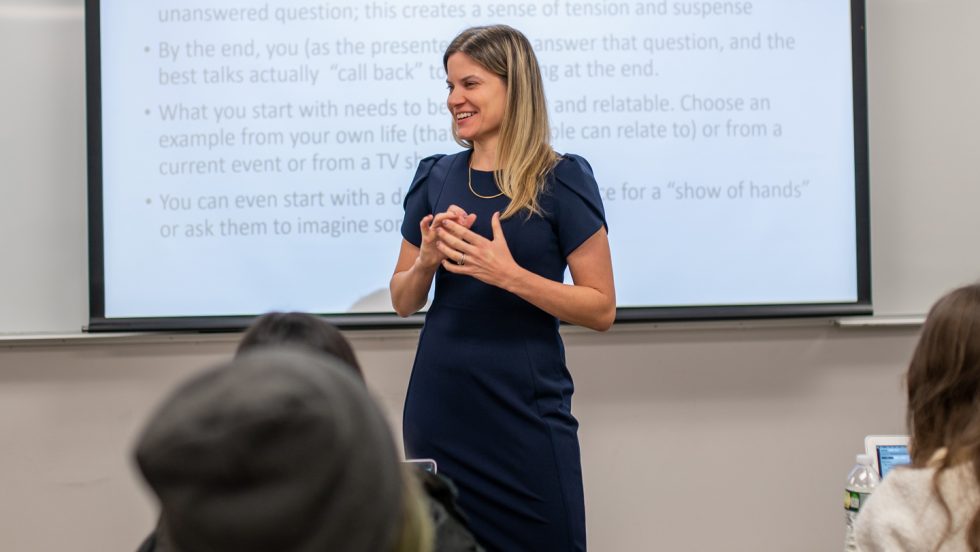 Karolina Lempert, PhD, joined the faculty of the Gordon F. Derner School of Psychology as an assistant professor of psychology this fall, after completing a postdoctoral fellowship at the University of Pennsylvania's Department of Psychology and Penn Memory Center.
So far, she reported, her first semester is going really well. "I feel extremely grateful and lucky to have my dream job in a dream location," she said. "I grew up in Bayside, so I'm happy to be able to do the work I love while being close to my family. I love every aspect of being a professor here, from teaching undergraduates about my favorite scientific findings, to mentoring students as they develop and execute their own research ideas, to writing grant proposals in which I can share my experiment ideas with others.
"I'm also excited to work with students and colleagues in Derner's excellent clinical PhD program," she continued, adding that she's known two of her colleagues, Associate Professor Dominic Fareri, PhD, and Assistant Professor Damian Stanley, PhD, for years.
Understanding Decision-Making
A cognitive neuroscientist, Dr. Lempert studies how people make decisions. While her recent column, "As We Get Older, We Overlook Past Slights," in Psychology Today, explored how a memory decline can influence decisions that depend on remembering prior experiences, she is currently most interested in understanding individual differences in the ability to delay gratification.
"Why do some people sacrifice immediate pleasures for their long-term benefit, while others jeopardize their future goals for immediate satisfaction? We can measure those differences in behavior, but to understand what leads to that behavior, you need to measure something that can't be directly observed," she said. "This is where neuroscience techniques can be useful."
Exploring the Role of Memory
As an example, Dr. Lempert explained, some people might be more impatient because they expect delayed rewards will come later. These expectations can be inferred by seeing how much their pupils dilate in response to surprising rewards. Neuroimaging can reveal how atrophy in areas of the brain involved with memory can lead people to be more impatient. "Because of this finding," she said, "we can now look more closely at why exactly good memory is so important for delaying gratification.
"In general," she added, "I think what we remember has a huge impact on how we decide, so a lot of my research will be on that theme. I'm also excited to apply some of this research in a clinical setting. For example, in another project, I will measure decision-making in individuals with substance use disorder to see if we can uncover predictors of relapse."
A Dedicated Mentor and Teacher
Dr. Lempert, who is already involved in the Adelphi neuroscience program and who welcomes the chance to collaborate with faculty in the Robert B. Willumstad School of Business decision sciences program, will be teaching cognitive neuroscience courses to undergraduates. "I'm mentoring two undergraduates through the Emerging Scholars Program this year, and I'm a research adviser to two PhD students," she reported.
"To me, mentoring is one of the most rewarding parts of being a professor, and I look forward to training—and learning from, my mentees."